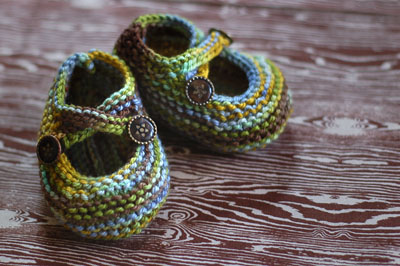 Pattern: Saartje's Bootees (PDF)
Yarn: Hello Yarn Fat Sock in Herbal- 20 grams
Needles: size 3 US
Gauge: 6.5 sts. per inch
Size: 4.25″ long, smushed flat to measure
Buttons: 4 antique tortoiseshell and brass (I'm guessing here.)
Verdict: DELIGHTFUL!
I changed the gauge of these to 6.5 sts. per inch and knit the small size in an attempt to make them fit at the same time as the matching baby pants made earlier. According to this shoe size guide, I seem to have hit the 6 month nail on the head. Hooray!
Other than the yarn/gauge, I didn't change a thing. There are a lot of seams in this, though, and as I knit the second, I pondered if it would be worth changing the pattern to knit in the round. I am so totally not familiar enough with babies and at what age they start standing, but that seam down the center of the sole might be a good thing to dispense with. These could be cast on at the center sole (as in the pattern), but with the Figure 8 Cast On and knit in the round. The only drawbacks to this are speed (because these knit up very quickly flat) and purling a row every other row. The finishing might cancel out any speed gained with knitting flat. I think I'll make a pair to match the Sweet Baby Hat and knit them in the round.
Good News: Another friend is pregnant. That makes two more BSJs I can make!