I love it when a fellow wool person has a baby and I can make hand washable baby clothes without worrying that they won't be loved.  In my book, there's really nothing better than a fat baby tummy covered in smushy wool, so cover babies' tummies I do.
I can't say enough good things about these overalls.  I mean, could they BE any sweeter?  The pattern is clear and simple and the end product is a delight.  After I made these, I was shown a blog post about knitting a crotch gusset, which can only be a good addition, when one considers how much diaper sits in between a baby's legs.  The more room there, the better.  These are knit at a pretty loose gauge, though, so the fabric is plenty stretchy to function well as written, I suspect.
Patterns: On the Go-veralls and Top Down Bonnet
Yarn: worsted weight 2 ply, 8 oz. and 558 yards- half the skein made both the pants and bonnet
Needles: US size 7 for the overalls and 3 for the bonnet
Size: I made the 6-12 month size in the overalls, but a bit stubby. They're 16″ tall, including straps. SO TINY.  I made the baby size in the bonnet.
I'm really pleased with the random coloring of this yarn. It's made from scraps of at least 4 different colorways of Hello Yarn fiber.  One ply is super soft stuff like Merino and Rambouillet, and the other is stronger stuff like Falkland wool and Corriedale.  I chose the fibers based on color and had no problems with the combination of breeds. I figured if the shorter fibers puffed up, that ply would just be chubbier.  The yarn was finished gently, with just a soak in lukewarm water and no agitation.  I spun and plied it it a bit loosely, hoping for a light and puffy yarn, which was the result.  The fact that I got a whole pair of overalls and a bonnet out of 4 oz. attests to that!
Oh, hey, and there's a whole new website!  I've tried to move all the important stuff over from the old one, but I did ditch my blog posts from before 2007, as it really wasn't that interesting back then and I doubt anyone ever looked.  If you notice something that you loved is missing, let me know!  Something happened to the blog categories (as in, they didn't make the transfer).  I'll work on that.  All the patterns you used to be able to download from my site are now available only on Ravelry.  You can access them through the Pattern menu above.  It seemed redundant to host them here as well as Ravelry and an informal Twitter poll indicated that pretty much everyone thinks that is exactly what Ravelry is for.
I plan on blogging a whole bunch, including about the building of our new studio.  If you'd like to read about it, you can update your RSS feeds over in the sidebar.
5 Comments
Babies need bonnets, too, so I knit one to go with the BSJ from the last post.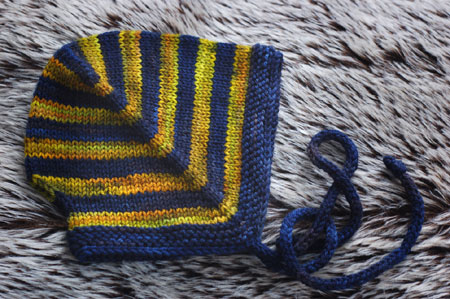 Pattern: Top Down Bonnet With Anime Character minus the character (rav link)
Yarn: Hello Yarn Fat Sock in Olive and Navy, 1.2 oz. total, or about 120 yards
Needle: size 3 Addi Turbo for magic loop
Gauge: 6 sts. per inch
Size: baby
I hadn't knit one of these in ages, and found some language that could be cleared up in the pattern. I'll get right on that.
Translation News:
The Top Down Bonnet pattern is now available in Finnish, thanks to the lovely Minna Neuvonen. Get the PDF here.
Babies also need rattles, so I got knitting.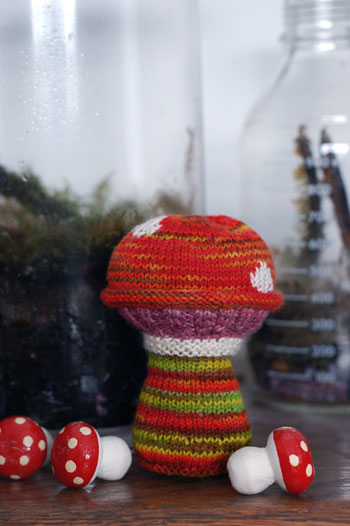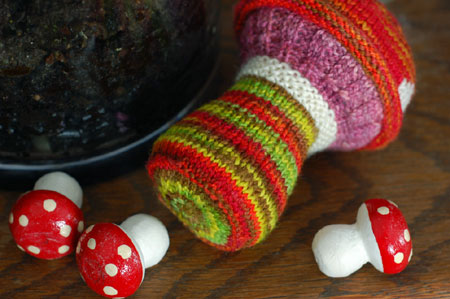 Pattern: Toadstool Baby Rattle (rav link)
Yarn: Hello Yarn Sock in Hot Peppers, Kale, and Pickle
Needle: size 0 Addi Turbo for magic loop
Gauge: 8 sts. per inch
Size: one size
This was totally fun to knit and it's an adorable rattle. Knitting with the rattly bit inside, already, was super annoying, but I'd do it again. It's so cute! I'd also like a couple with weights in the bottom, just for decorations.
Can you tell I've been raiding my bag of dud skeins and leftovers of hand-dyed yarns? Free yarn, free patterns, just what a person renovating a house needs!
15 Comments