Babies need bonnets, too, so I knit one to go with the BSJ from the last post.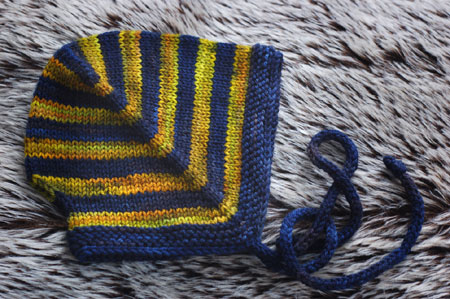 Pattern: Top Down Bonnet With Anime Character minus the character (rav link)
Yarn: Hello Yarn Fat Sock in Olive and Navy, 1.2 oz. total, or about 120 yards
Needle: size 3 Addi Turbo for magic loop
Gauge: 6 sts. per inch
Size: baby
I hadn't knit one of these in ages, and found some language that could be cleared up in the pattern. I'll get right on that.
Translation News:
The Top Down Bonnet pattern is now available in Finnish, thanks to the lovely Minna Neuvonen. Get the PDF here.
Babies also need rattles, so I got knitting.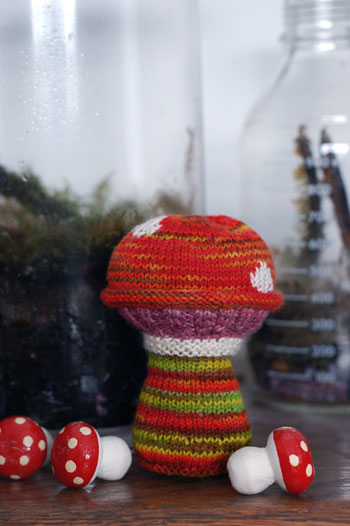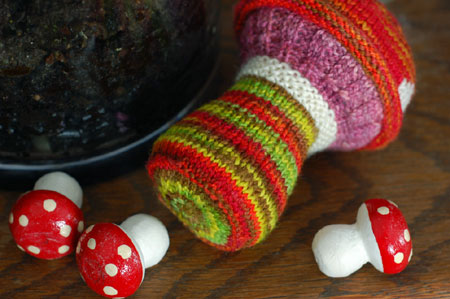 Pattern: Toadstool Baby Rattle (rav link)
Yarn: Hello Yarn Sock in Hot Peppers, Kale, and Pickle
Needle: size 0 Addi Turbo for magic loop
Gauge: 8 sts. per inch
Size: one size
This was totally fun to knit and it's an adorable rattle. Knitting with the rattly bit inside, already, was super annoying, but I'd do it again. It's so cute! I'd also like a couple with weights in the bottom, just for decorations.
Can you tell I've been raiding my bag of dud skeins and leftovers of hand-dyed yarns? Free yarn, free patterns, just what a person renovating a house needs!