I've been in serious garter stitch baby-knitting mode around here. There's been another rash of pregnancies, which I've managed to elude (whew), and these babies need sweaters!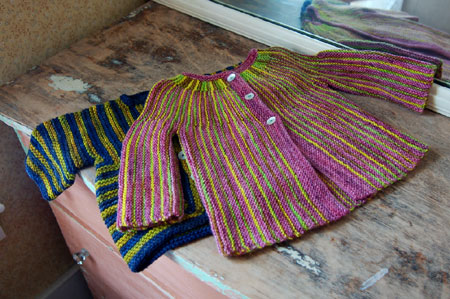 Blue and Green Sweater:
Pattern: Baby Surprise Jacket from The Opinionated Knitter by Elizabeth Zimmermann
Yarn: Hello Yarn Fat Sock in colors Olive and Navy, a little under 300 yards total
Gauge: 5.25 sts. per inch
Size: 17″ around, 16.5″ cuff to cuff. This is little guy size- 3-6 mo.
Needles: size 5 Addi Turbo
Buttons: shell
Purple and Green Sweater:
Pattern: DROPS Jacket in Alpaca (free pattern)
Yarn: Hello Yarn Sock in colors Pickle (green) and Kale (purple), around 1.5 oz. of the Pickle and 3.5 oz. of the Kale
Gauge: 24 sts. per 4″
Size: 21″ around under arms, probably 12 mo.+ size
Needles: size 2mm Addi Turbo
Buttons: shell
I'd been meaning to make this DROPS pattern for ages, and now that I have, I think it's like a feminine, or maybe just sophisticated, BSJ. I can see myself making many more, and with 2 more friends pregnant, I'll probably be doing it soon!
The pattern is a fun knit. The short rows are dead simple to memorize and even the measurements are, as well. The front is the same width as the sleeve and the back is twice as wide, and so on.
I had major trouble getting gauge. The pattern calls for sport weight and while I'd have loved to use Fat Sock, I ended up using the regular Sock and still didn't get get gauge. I ended up with 26 sts. per 4″ instead of 24 and the sweater is very big- probably fitting a 12 month old+. This leads me to believe the pattern is a little on the big side, even without a gauge problem.
It certainly is a squishy lovely thing, and well-suited to a solid (or semi-solid, as in mine) and hand-painted yarn combo.
Fiber Club:
Ack! There has been some confusion and/or excitment about the fiber club that just shipped. That was January's fiber and new members to the fiber club are members for February-April. February's fiber will ship later this month. I'm sorry some people were stalking their mail carriers and not getting satisfaction from it.
Favorite Things:
* superbomba in Flickr
* candied orange peel
* my Shinzi Katoh bottle
* HEL LOOKS
* Gretchen Kramp tiles
* peeking under the awful vinyl bathroom floor and seeing gorgeous yellow pine
* Pippa sleeping through the night like a big girl
PS: Does anyone use NextGEN Gallery and know why my slideshows don't have that nice NEXT button in the upper right corner? I can't find that setting for the life of me, but then it took me a week to figure out how to get Thunderbird to open links in Firefox after the most recent upgrade. :P