Crochet Mania and Potholder Swap!
If you follow me on Flickr, you know that I've been having a bit of a crochet attack. This time, I'm all about the hot pads and potholders, with a small side of ripple blanket.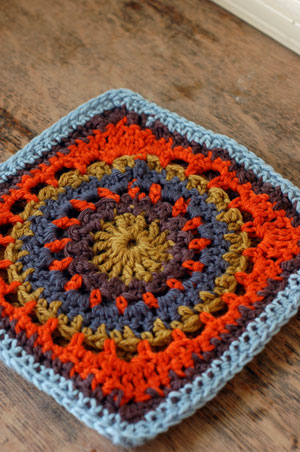 The Swap:
It turns out the crochet attack is going around, and some of us got talking about starting up a swap for these hot pads and potholders, so that's just what Maritza and I are doing. The goal is for each participant to crochet 5 beautiful potholders or hot pads and send them in. In return, you get 5 glorious potholders back. We're aiming for something a little above and beyond the norm, here. We want potholders that are super kitschy and fun, or extra beautiful (handspun?!), functioning as useful objects as well as art.
We'd love to have you join our swap. To participate, please email us at potholderswap2009@gmail.com. Deadline to enter the swap is 3/21/09. Please join us at the swap blog, as well!
Now for the rules. They're pretty basic, so here goes….
RULES FOR THE SWAP:
– hot pads/ pot holders must be crocheted
– each member will crochet 5 hot pads/ pot holders in the same pattern. Different colors are okay. (You can choose whatever pattern you want to work with and vary the colors between them, as long as you crochet 5 hot pads/ pot holders in that same pattern.)
– each pad/holder must be tagged with maker, fiber content, and care instructions
– wool or cotton yarns only please
– if you have a wool allergy please let us know so you will receive cotton hot pads only
– each pad/holder must be between 6 – 12 inches in diameter
– US swappers., you must include a USPS Priority stamp for return postage with your potholders. Non-US residents are welcome, we'll just need to work out how you pay for return postage with you.
– have fun with this!
We're thinking that 2 months should be enough time for everyone to finish their hot pads/ pot holders, but we'll post an official deadline and details as to where to mail them shortly, once we have all our swappers.
For now, there are a few wonderful resources for pot holder patterns, such as Crochet Pattern Central and the Crochet & Crafts Link Index, as well as an inspiration group we started on Flickr.
Take a button! (Save it to your own server, please.)