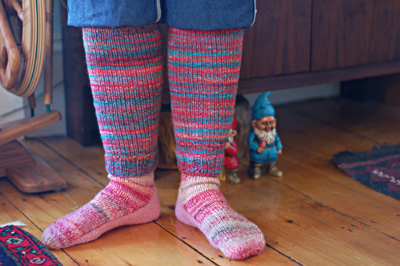 Handspun socks are a wondrous thing, but I work from home and run around in my socks all day on wooden floors, so they're not the best for me. My heart seizes up a little at the thought of blown out heels on handspun and handknit knee socks, in particular, but a fan of knee socks I am. It's COLD here in Boston in my little old house and I have enough chubby wool socks, so what I needed was to extend the length of these socks. Hooray for leg warmers! These are fitted, not the sloppy kind of my junior high years. They're pure function, if you don't count the high voltage color. They don't take much yarn, either! This is undoubtedly the first pair of many, because – WOW- they are cozy.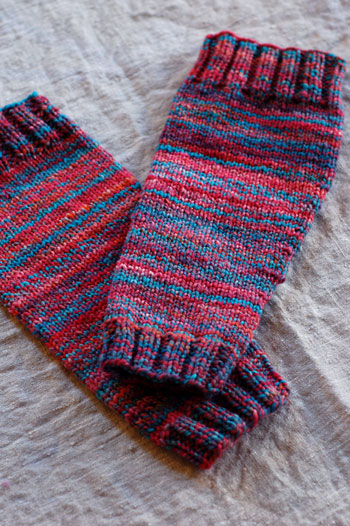 The Facts:
Yarn: Maisy Day Handspun 2 ply bulky weight handspun Merino wool 2 ply, 5 oz. and 202 yards (I used every bit of this yarn, splitting the ball in half with a scale to get the most out of it. Amazingly enough, they are the perfect size.)
Needle: size 7 Addi Turbo for ye olde magic loop
Gauge: 4 sts. per inch
Size: 13″ long and 11″ around at the top, 9″ at the bottom (measured in stockinette section, not ribbing).
Fit: My legs are 15″ around at the largest calf point and 8″ at the ankle, meaning I've got some negative ease going on here. I didn't make them as tight at the bottom as the top because they need to go over chunky woolen socks. They're soft and stretchy, so they are not binding in the least.
These are knit just like a sleeve. Cast on and rib a bit, and then start increasing 2 sts. per increase row with the increase rows spaced about an inch apart, until you get to the desired upper leg measurement. Work straight and do a bit more ribbing. These are knit at a firm gauge and stay up with absolutely no problem.
PS: I don't normally wear my jeans rolled up that high, but I'm not promising anything now that I have such flash leg warmers. :)
PPS: Cobblestone's coming. I haven't had time to do her justice in both photography and a blog post. Soon!