The Knitter's Book of Yarn and Rhinebeck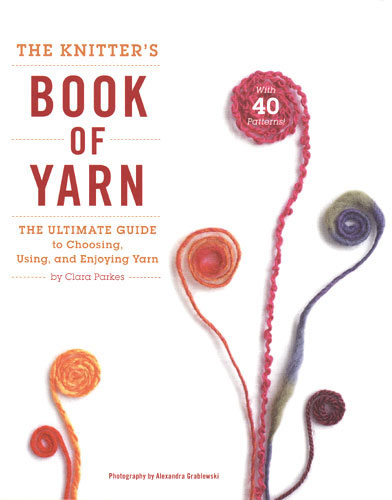 On Thursday, I got a great treat in the mail. It was The Knitter's Book of Yarn by Clara Parkes, and marks the first release of a book that I wrote patterns for. There may have been childlike squealing. It was so difficult not to show these mittens as I was knitting them, because I was pretty darn excited. Thankfully, they're free to be shown now.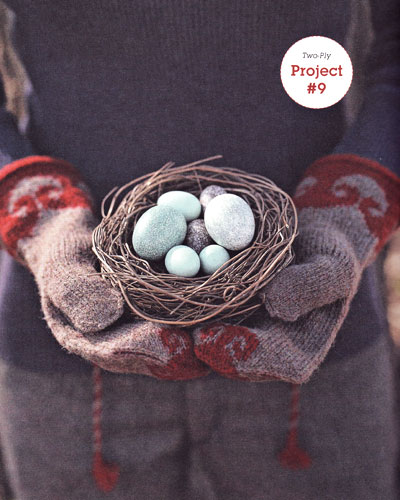 Double-Thick Mittens, knit in Alice Starmore Hebridean 2 Ply. The whole mitten is stranded, even the solid sections. You betcha they're warm. They've got a picot hem, Latvian-style braid, and twisted, tassled strings to tie them together when not worn. The yarn is a woolen-spun heather, which contrasts the graphic design nicely, I think.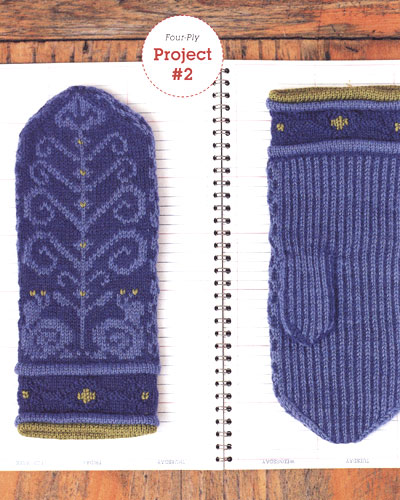 Norwegian Snail Mittens, knit in super soft Dalegarn Baby Ull. I can't praise Clara enough for allowing me to make such an amusing mitten for her book. These have circus-tent striped palms, fanciful motifs, floops galore, duplicate-stitched kiwi green accents, knit/purl patterning, and SNAILS. This yarn is a smooth worsted-spun solid that shows the pattern to great effect.
Mittens aside, this is such a wonderful book and I'm so proud to be involved. If you'd like to learn about fibers, yarn construction, properties, and selection for projects, this book is for you. The patterns aren't half bad, either. ;) Right Amy? Amy has 8 patterns in the book!
Rhinebeck:
Rhinebeck was a total madhouse, mainly because I went with Jess and Casey from Ravelry and a bit of a hubbub follows them whenever they go near yarn-type people, but also because 12,000 people were there on Saturday alone. Being around Amy Boogie might have had something to do with the craziness, as well. Amy is like a force of nature, complete with a desire to party and a checkbook, all wrapped up in wool. She's my kind of woman. I had a great time seeing old friends and meeting what seemed like 9,000 of the 12,000 people who showed up. The Ravelry party on Saturday was a ton of fun: I (well, the Fantom Bohus sweater) was felt up by many a knitter, and neither of us minded, the company was fantastic, and we closed that place down.
I took literally one (bad) photo, but other people were much more prolific. Want to see some Rhinebeck photos?

Ravelry events, including the festival
Rhinebeck 2007
Finished Objects:
I've got lots of knitting to show. Cobblestone is done, and I knit a pair of legwarmers (!) in the van over the weekend. I knitting like a maniac on the Jackyll and Hide from the Fall 2007 Knitty. The plan is to frighten the life out of every trick-or-treater we get.