If you don't like photos of dogs, you might want to run away quickly! I've been making sweaters like a madwoman for poor, shivery Pippa. Despite her looks, she's not the furriest dog you'll ever see. She's mainly got what I'd call "wisps" for fur. Thankfully, I love to knit and she's pretty freaking cute in her sweaters, if I do say so, myself.
Aw, look at her, getting fur all over the couch.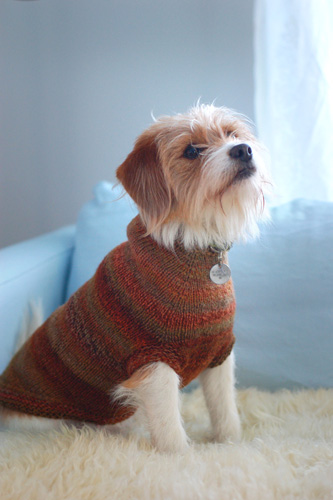 The yarn for these is my own handspun.
Pink: Cosmos Merino that I dyed for the shop once upon a time
Green: Verdant Merino/Mohair, which was the fiber club's January 2008 offering
Autumnal: This handspun Polwarth yarn in Kakadu colorway (wool from Come In Spinner), which David graciously brought when he stayed with me in the Fall. Invite him to your house. He brings good presents.
The pale pink was the first to be knit, then the green, then the autumnal tones. Each sweater used around 200+ yards of worsted weight yarn. They're seamless sweaters, knit in the round, started at the neck and knit down, with paired double increases from neck to leg holes. The sweater is then split and knit back and forth between the legs, then back and forth across the back, until leg holes are large enough, then rejoined and knit in the round again. The waist is nipped in with a double decrease down the center tummy, then stitches are held aside and decreases are done to create a "tail". Openings are edged in either ribbing or garter stitch with extremely loose bind-offs.
Each sweater is better than the last, but I'm not completely satisfied yet. The last sweater has a too-long neck, the green sweater had too-big leg holes, and the pink was a tad too tight. Once I get this perfected, I'll get a couple of testers and release this pattern for free, probably as a calculator, so dogs of every shape and size can have sweaters. (I'm afraid it'll have to be a manual calculator, with pen and paper, unless a superhero online calculator person rescues me.)
The sweaters have been seeing lots of use because ho, is it ever cold out. Wow! I mean, seriously. This weather is bananacakes! Which brings us to our next subject-
Watching TV and Movies:
My blog must be a bit dry (all knitting and spinning, all the time!), because the minute I talk about TV or a movie, I get all kinds of emails. :) I swear I'm not dry in real life- anything but. Anyhoo, it's lovely to know there are a bunch more people out there who also think Omar is the tits.
The big news around the house is we got this magical device called a Roku Netflix Player a couple of weeks ago and are having a blast with it. As long as you subscribe to Netflix on an unlimited plan (I think that's anything but the $5 plan), you can watch as much as you want on the Roku. We might be a bit late to the game with this device, but boy, is it ever entertaining us well on these frigid evenings, when doing anything other than huddling on the couch with a puppy, a blanket, and a cup of tea seems out of the question.
Lately, we've watched Wanted (eh), Hellboy 2 (eh), In the Valley of Elah (good), lots of Curb Your Enthusiasm (yay!), Burn After Reading (surprisingly eh), and old 30 Rocks (yipee!) Any recommendations are welcome.
Fiber Club:
Whoah, that waiting list. I'm not going to even look at it unless I'm emailing people to get in. It's big. Big enough that I can't imagine ever getting to the end of it. I'm going to definitely let more people in this time than last, but haven't decided how many. I bought more dye pans. Lots more!
Stay warm, people. Send Saint Bernards if you don't hear from me.