Finished Object: Wham Bam Thank You Lamb!
Over the holidays I knit a ton of small projects, including cowls, neck warmers, and several pairs of Toast mitts, all of which I'll blog about. This neck warmer is the most functional of the bunch, and my new favorite.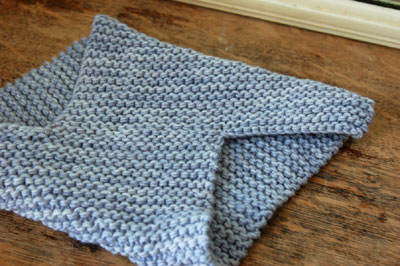 Pattern: Wham Bam Thank You Lamb! by Insaknitty
Yarn: Malabrigo Merino Worsted in Polar Morn, held double
Needle: 10.5 US
How Long to Knit: 4 out of the 7 episodes of Deadwood we watched on New Year's Day. We watched the last 7 episodes with a Boston friend who was out visiting and who'd watched the whole series with us on DVD over the last year. I saw the series when it was on HBO, and thankfully managed to hold myself together for the ending this time. Last time, I burst into uncontrollable sobbing at the closing credits. Is The Wire going to do that to me, as well? I'm a little scared and we're only on season 3. I might love Omar a little too much. (Don't spoil me!)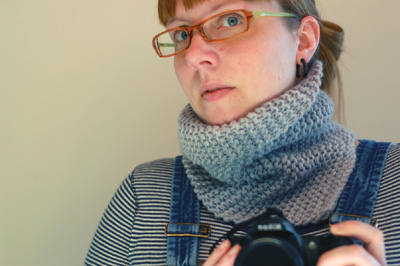 Mods:
I cast on 35 sts. instead of 25 and knit until the yarn ran out.
I did a provisional cast on and when I got to almost the end of the yarn, cast off 20 or so sts., grafted the rest together, then cast off the remaining sts. No pesky seam. :) Don't forget to have the last row of stitches on the top needle be knits and the bottom row (last knit) have purls up against the needle when you graft in garter.
I'm a Malabrigo convert. This is so soft I forget I have it on. It looks awesome with my new coat, as well. :)
Fiber Club!
It's been shipped. This is a newish fiber, which I don't sell in the shop, but will right away. It's great stuff!
It's good to be the dyer (spoiler). The fiber club has gotten so big that my formerly little bag of fiber tails has grown to a 2 lb. 10 oz. bag of tails this time. I was planning on making Mr. HelloYarn a vest (he's been alternating his two knitted vests every other day, the poor sausage), but cripes, I can make a vest and a sweater from this haul! Maybe matching Adrian, Mark, and Pippa sweaters?