Finished Object: Handspun Rayne Wrap Cardigan
This project had to be a secret because it was my mom's Christmas present. It was a big one!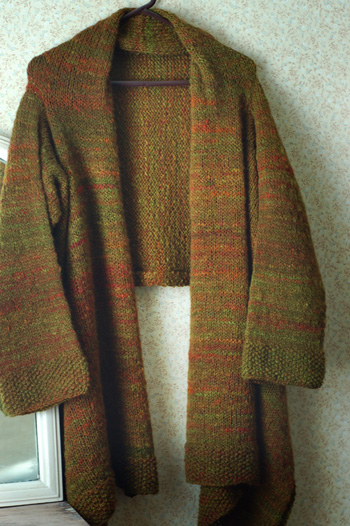 It was fun, too. This sweater is as simple as sweaters get, which makes it such a great canvas for interesting yarn. The yarn I used was my handspun 2 ply from some gigantic wool/alpaca batts purchased at Rhinebeck from Spinners Hill. I liked spinning it so much, I bought another 2 lbs. of batts last fall at Rhinebeck. Their booth is heavenly!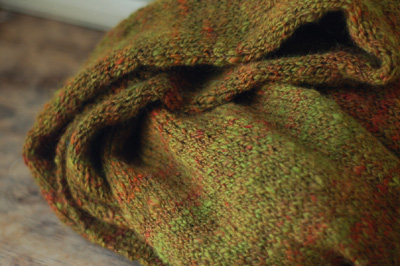 The Facts:
Pattern: Rayne Wrap Cardigan by Laura Chau
Yarn: my handspun 2 ply worsted weight yarn, approx. 1275 yards, or 155 fewer than the pattern calls for. Why so much less yarn, I don't know!
Needle: 6.5mm
Gauge: 3 sts. per inch
Size: 48″
Started: May 2008 (spinning) and November 2008 (knitting)
Finished: December 2008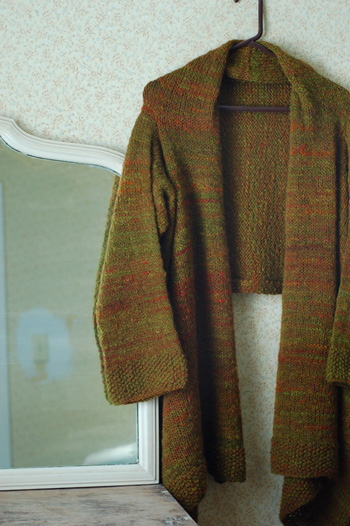 The Spinning:
The prep was a little on the rustic side, so it was a fun spin. The yarn is lumpy and bumpy with streaks of red and orange alpaca set in an olive green wool base. This was the perfect yarn for such a simple garment. Any fancy stitch pattern would have been lost with all the blobs and bumps and streaks. The alpaca gives the yarn great drape, which is fantastic in this pattern. This, in addition to the loose gauge for the yarn weight makes the sweater flowing and so comfortable, as well as flattering.
The Knitting:
The knitting of this sweater is very simple. There's minimal shaping and seed stitch is the most complicated stitch. It would be perfect for the beginner who doesn't mind spending some serious time knitting. The 6 foot long rectangle took even speedy me some time to knit!
The Verdict:
Success. Mom likes it, it's flattering as hell, and so comfy. It's beautiful enough for dress up and so comfy I'd want to wear it to snuggle up in on the sofa all evening.
Many apologies for the lack of modeled shots. I meant to get some, but the holidays took over and I just plain forgot. Now, the sweater lives far away.
Fiber Club!
It's going out today and tomorrow. Again, many apologies for the lateness. Losing Shambles and the holidays kicked our production's butt.
Sign-ups for returning fiber club members will start in about 2 weeks. I'll give plenty of notice here. I'll also be putting up a self-signup for new members who want to be in line for the club.
Shambles:
So many thanks for your kind words about him. I haven't responded to all the comments, as it's really hard to read them, but thanks. Your thoughts mean the world to me.