Finished Object- Little Inga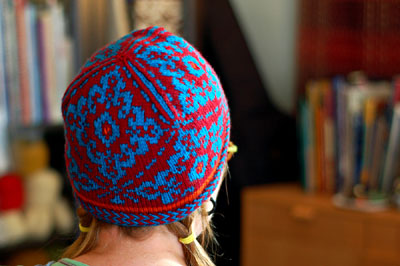 Yarn: Cascade 220 and Knit Picks Merino Style (stashed odds and ends, unknown colors), 2.2 oz. total.
Pattern: Inga, by Sheila Macdonald , altered to be smaller.
Needles: Size 1 and 3 US
Gauge: 6.5 sts. per inch
Size: 19″ circumference, which fits my 22″ head snugly
Started: December 29, 2007
Finished: Last week sometime.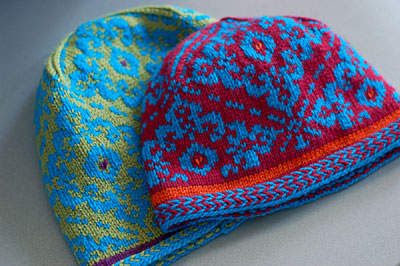 Changes to the Pattern:
Here's the altered version with the unaltered green version. It's a lot smaller! Merino Style, the red, is DK weight, so the gauge changed a little. Beyond that, I changed the pattern a bit so that the hat was shorter. The original is 10″ tall and I chopped 2″ off that for this version.
I started with 2 braids instead of one (they're just nice) and changed the stripes a bit. The original stripes are better, so if I had to do it over again, I wouldn't change them. I then skipped rows 9-23. Easy peasy, shorter hat!
Other Knitting:
It's sock time over at the Ravelry Stranded group (you need to be a Ravelry member for the link to work).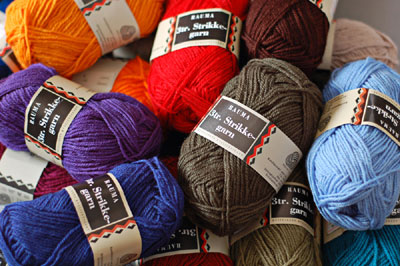 I got my hands on some Rauma Strikkegarn and boy, howdy, do I love it. It's 3 ply, DK weight, woolly and strong (code for Mr. HelloYarn will need his hats lined) and raring to go on socks.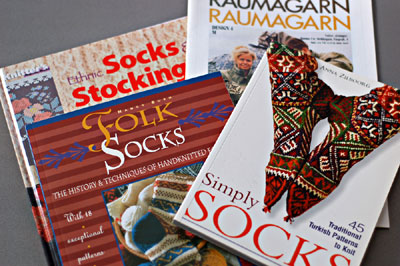 I've been poring over my sock books and think what I need to do is make knee high Norwegian stockings, but in so many colors that they could pass for Turkish.
First, I have more Selbuvotter knitting, my Tomten is *thisclose* to being finished (just a button band and buttons), and a sock pattern needs to be decided upon.
Oh, and shop update next week! Tuesday at 2pm EST, like usual. See you then. :)