Shop Update and Fiber Club
Today's shop update day, at long last.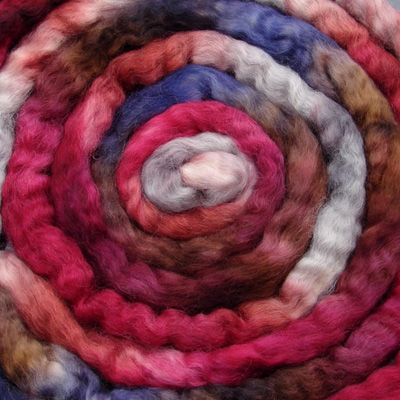 I've got hand-dyed Sock, Fat Sock, and giant skeins of superwash DK yarns, plus Wensleydale, Falklands wool, and Merino/mohair spinning fibers. Sarah from Maisy Day Handsun sent Merino sock yarn and some lovely handspun.
Shop here at 2 pm EST.
Look at it all on Flickr.
Fiber Club News:
Renewal memberships for the Fiber Club will go up for sale on the 25th, and any slots left over will be for sale starting January 30th. I'll remind everyone here again before the day. New, hopeful members, be forewarned that slots sell out within a matter of hours. Go here for more info. I haven't made any changes to the club since last time. Same price, same amounts of fiber.
If anyone is interested in more Toxic, give me a shout (click the little envelope in the upper left hand corner of the page). I've got 7 bags left, $15 each. (This is for club members only, sorry!)