Finished Object: Inga Hat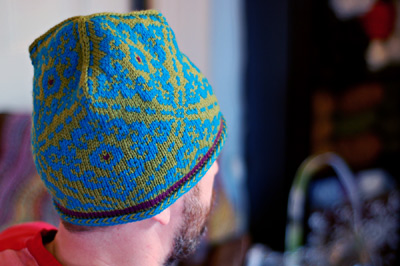 Yarn: Cascade 220 and Patons Classic Wool (stashed odds and ends, unknown colors), 3 oz. total.
Pattern: Inga, by Sheila Macdonald (It's free!)
Needles: Size 1 and 3 US
Gauge: 6 sts. per inch
Size: 20″ circumference, which fits my 22″ head well, but Mr. Helloyarn's 23″ head a little too snugly. (He's the model here.)
Started: December 26, 2007
Finished: December 29, 2007
The Knitting:
This was great fun and a nice rest for my hands after the million tiny stitches. It's a great way to use up random stashed colors, that's for sure! I had a great time laying out balls of worsted weight in rows and choosing the loudest combination I could wear.
I'm very surprised that the braided edge gives enough structure to keep the edge from rolling, but it really does. It certainly gives a cleaner silhouette than a hem does.
The only change I made to the pattern was adding those little blips of purple in the center of each design. They're duplicate stitch.
As you can see, this hat's a little tall- 20″ from edge to edge, over the top. Since I prefer a shorter hat, I'm already making another one.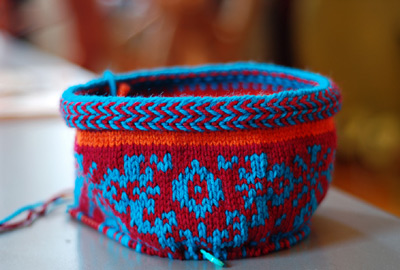 I hesitated the first time around, but think I've hit upon the loudest color combination I'll wear with this one! I'm wangling the pattern a bit, adding a second braid, extending the striped section a bit, and taking out nearly a full repeat of the pattern. Will report back.
In the meantime, look at all the Ingas on Ravelry, or check those puppies out on Flickr. There are some excellent color combos out there, for sure!