Finished Object: Chevron Love Mittens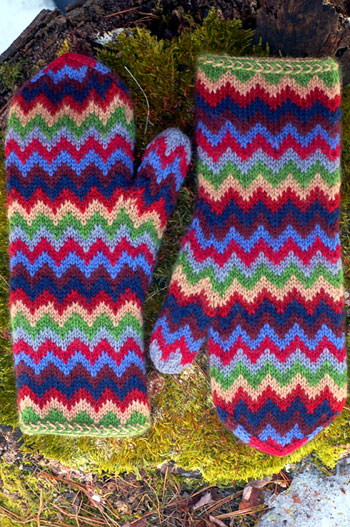 (Yes, that's snow in the lower right corner. If that could go away soon, that would be awesome.)
Pattern: Chevron Love Mittens by Julia Vesper/Knitterly Things (rav link for pattern only) (kit link)
Yarn: Brown Sheep Nature Spun Sport/Knitterly Things kit in "Hello" colorway
Needles: Size 1 Addi Turbo for Magic Loop for mitten, size 3 for thumbs
Gauge: 7 sts. per inch
Started: February 22, 2009
Finished: March 21, 2009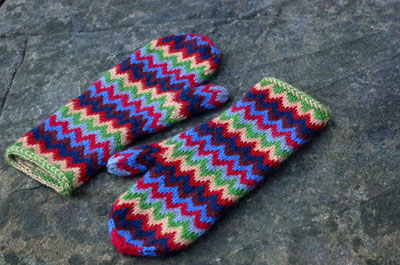 The Knitting:
These were great fun to knit! The chart's super easy to memorize on the first repeat, then off you go! As a tester for this pattern, I got to pick my own colors, 8 in all, which was a blast. The skeins were lovely and sitting down to fiddle around with the color order once they got here was even more fun.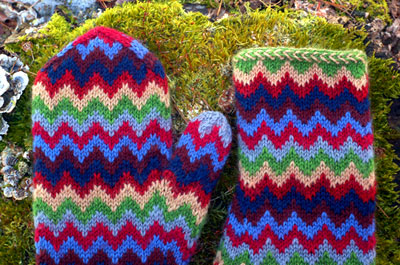 The burning question may be, what to do with all those colors? I carried all them up the inside of the mitten, twisting them into a rope as I went. Every time I changed colors, I wrapped the new color around the rope to secure it. It worked great and I don't feel the "rope" when wearing the mittens. It took some getting used to the 8 little balls of yarn hanging off the mitten as I knit, but it's absolutely preferable to cutting the yarn and having 9 million ends to weave in, at least for me.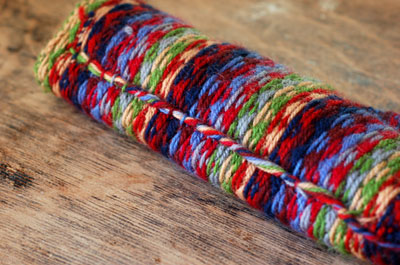 Conclusion:
Fun to knit, absolutely lovely product, great yarn in great colors. What more could anyone want?
Things I Love Lately:
Milk- I sadly missed all the Oscar-type movies in the theater, so we're getting them from Netflix. Milk was so wonderful, wasn't it? Sean Penn was lovable, spazzy and overly excited. Who knew? I've seen The Times of Harvey Milk a good few times and have such affection for him, so it was wonderful to have the affection carry over into the new film.
Tilt-shift photography – I've made a few using this tutorial. There's an online generator, as well. I need practice, but they're such fun to make.
James LeFleur. I love Sawyer all cleaned up!
Everyday Food on Twitter. Just when you don't know what to eat for dinner, some crazy sandwich is pointed out to you.