Faux Bois Scarf and Mittens
Finally, Twist Collective is out and I can blab about my wooden scarf and mittens!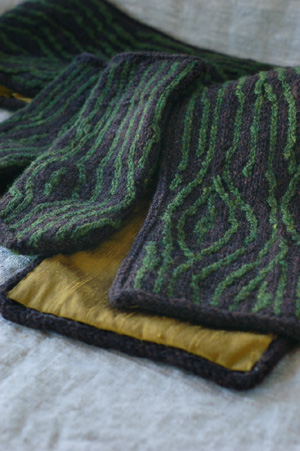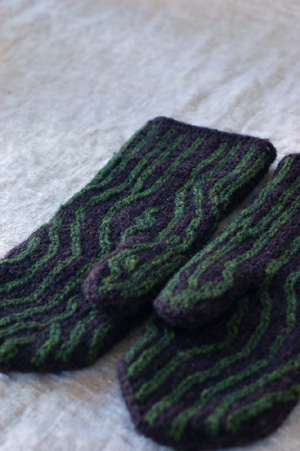 Boy, Twist Collective has been fun to work with. They supported me in making mittens and a scarf that look like little logs! I was also able to use a great local yarn, Harrisville New England Highland, that I adore. It's a wonderful worsted weight tweed yarn that accentuates the rustic wood grain idea.
The pattern combines traveling stitches and colorwork, a steek, attached i-cord, sewn-in lining- all kinds of fun! These are a quick knit due to the weight of the yarn. I hope you enjoy them.
The Info:
Faux Bois Scarf and Mittens
Pattern available from Twist Collective, Fall '08
Ravel the scarf.
Ravel the mittens.
The pattern contains instructions for both mittens and scarf.
The pattern from this issue that I just can't get over is Anne Hanson's Gnarled Oakwoods. It's beyond gorgeous.
And I have to say, flipping through the pages is more fun than flipping through the Ikea catalog online, and that's sayin' something.