Despite chatting on a regular basis, Amy (Spunky Eclectic) and I don't share our fiber club plans with each other, mainly because we trade subscriptions and don't want to ruin the surprise. We were strangely in tune with our July club offerings, and now we both have lots of rainbow-y yarn at our disposal. We both chose sturdy wools with lots of crimp and body and happy, bright colors, in combed top form. Even the names are similar.
To spin these, I folded the top in half and pulled it apart there, then split each half into strips as wide as my pinky, and spun those from the end. Half went on one bobbin and half on another, and I plied them together. Easy peasy and my favorite way to spin these spotty tops. I've become a very consistent spinner and rarely have more than a couple of inches left on either bobbin after the plying is done. It's always cause for a little jump and clap in my seat. It's the little things!
Hello Yarn Lantern Festival: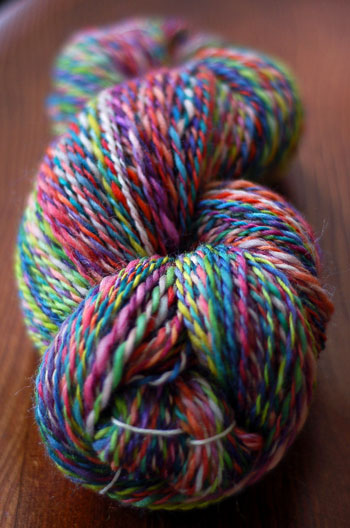 Hello Yarn Fiber Club July 2007 offering
hand-dyed and handspun Corriedale wool from combed top
*see the fiber*
2 ply worsted weight
4 oz., about 240 yards
Super fluffy! Very rainbow-y.
There's a lot more where that came from. I've got another skein of 160 yards done and as much wool again to spin, bringing me up to about to about 800 yards of worsted. Hmmm!
Spunky Eclectic Celebration: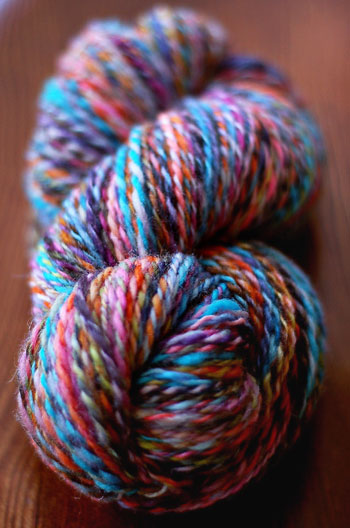 Spunky Eclectic Fiber Club Selection for July 2007
hand-dyed Shetland wool
2 ply worsted weight
4 oz., about 230 yards
soft, light, fluffy
I'm amassing quite a collection of handspun worsted weight yarns. Whatever will I do? :)