Black Beans and Brown Rice with Corn Tomato Salsa
This is my new favorite and I made it up, so I can share.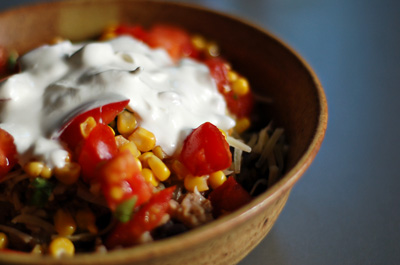 That new camera takes such pretty food pictures!
Make your own:

This makes a big pot- I'd think you could feed 6 or 8 with it.
2 cups brown rice (I used basmati)
4 cups water
splash olive oil
½ tsp. salt
1 lb. 13 oz. (the big one) can black beans, rinsed well and drained
Put everything but beans in big pot, bring to boil, then cover and simmer 40 min. (I like my beans really squishy, if you like yours more firm, wait until rice has cooked 50 minutes, add beans and cook 10 minutes more). Add black beans and stir to combine. Simmer 20 more minutes, until mixture is moist but not wet. Remove from heat.
2 tbsp. olive oil
1 onion, chopped
5 garlic cloves, chopped
½ tsp. salt and black pepper to taste
7 oz. can chopped green chilies, including liquid
½ tsp. chili powder
In small saucepan (I like to use a small saucepan because it ½ sautees, ½ simmers.), heat oil and add onions, garlic, and salt. Cook over low heat until translucent, 10 minutes. Add chilies and chili powder. Cook over low heat until liquid is cooked mostly off, a few minutes more. Remove from heat.
After these two pots are done cooking, stir onion mixture into beans and rice. Serve topped with shredded cheese, corn and tomato salsa, and sour cream. Avocado would be good, too.
This would rock as a burrito, too.
Corn and Tomato Salsa
2 cups cooked corn kernels (frozen then thawed works, too)
2 tomatoes, chopped
a few tbsp. fresh cilantro, chopped roughly
juice of 1 lime
¼ tsp cumin
salt and black pepper to taste
splash of balsamic vinegar
Mix together and chill until ready serve or serve at once.