I left you last with a description of the Tomten's modified waist shaping, underarm gusset, and v-neck. The hood is finished now, and fits very well. I'll describe changes in both stitch counts and percentages, since I played around with the original pattern and altered the stitch count a bit for fit, casting on 120 instead of 112 stitches.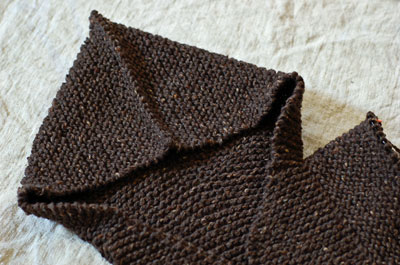 You can see the v-neck shaping well in this photo. My original front section stitch count was 15. I reduced that, decreasing at the neck edge every other row to 6 sts., or 40% of the original count.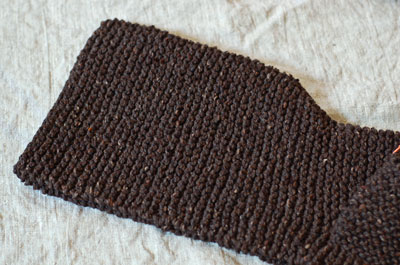 This brought my hood stitch count down to 42 from 60, or 70%. Increases were done as described in pattern, resulting in 56 sts. for the body of the hood. I'm finding this to be a very nice depth, taking into consideration the addition of the button band, which continues up and around the hood.
Instead of weaving the top of the hood together, I used a 3 needle bind off with the right side facing. It creates a nice, sharp edge.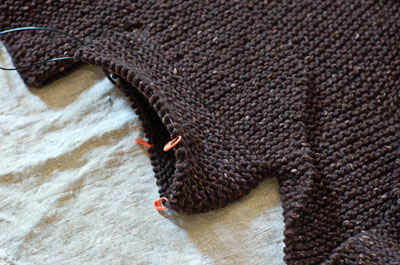 Now, on to arm fit. I shortened the length of the armscye only a small bit (by 2 ridges). I've been using a favorite jacket as a model for my Tomten from day one, since this old jacket fits like a glove. The Tomten is a thicker fabric, so I've been upping the sizing a tad, but being able to follow the shaping of this jacket is great! I matched the armscye length to this jacket and away we went.
To shape the shoulders and make the sleeves angle down a bit instead of sticking straight out in a big T, I'm adding short rows to the shoulder area. At 7 ridges in, I short-rowed (wrapping but not knitting up the wraps, and it looks very nice) the center 20 sts. I then knit 2 ridges and short-rowed again. I'll get back to you about whether this creates the proper angle. Things look promising.
On a happy final Tomten note, I think there's enough yarn. :)

Comment Spam:
People, comment spam is going to be the death of me. I've been using Akismet all along, and added HashCash today. Akismet is great- it catches every bit of comment spam and puts it in a folder I can moderate. The crummy bit is that it sometimes catches legitimate comments, and at 1,000+ spam comments a day, I just can't go through them all. It's a shame that people take the time to comment and I never even see it. Hashcash is supposed to be able to tell the difference between bots and actual people, not allowing the bots to comment. I don't think it's working very well, as I just installed it a half hour ago and have 50 spam comments already. If you happen to use WordPress and know of a great spam plug-in, would you let me know? Thanks!