Spinning Other People's Fibers
I realized recently that not only did I not have a stash of spinning fibers, but I had absolutely no fibers dyed by other people. What a shame! I'd see fibers, then think "Ah, I can do that, so I shouldn't spend the money." Well, sometimes you just need a treat. Amy and I decided to trade subscriptions to each other's fiber clubs, so that's one fiber per month added to my stash. My first month receiving fiber from Amy was May and I finally got to spin it the night before last.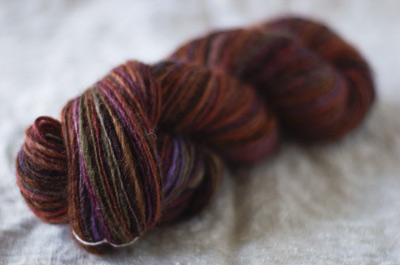 Nightshade colorway, Spunky Eclectic Spunky Club offering, May 2007
Coopworth wool
250 yards/ 4 oz.
sport/DK weight
singles yarn
This is a nice, soft single, as balanced as a single can be: not a hint of a twist to the skein when hung. Here's some great info on spinning low-twist singles if you're new to that.
Then I saw batts over at Spritely Goods and needed some of those. Can you blame me?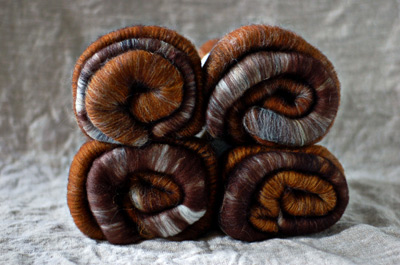 I started on these last night, spinning one batt into singles as is and splitting another into layers, one dark brown and white, the other brown, and then splitting the layers in two for the other single. I'll spin the second bobbin in 4 big fat stripes and ply it with the first bobbin. Hopefully, this will result in long, subtle stripes in the finished 2-ply. Will report back on that!
I already have enough handspun brown yarn to combine that with the Nightshade to make a sweater. I'll be keeping my eyes peeled for a fiber to go with the Spritely Goods batts. Maybe you can help me figure out where I'll find the time to knit this all up! Maybe I'll stop cleaning the house to free up some time. :)
Since I never did post a photo of the Hello Yarn Fiber Club June offering, it's about time.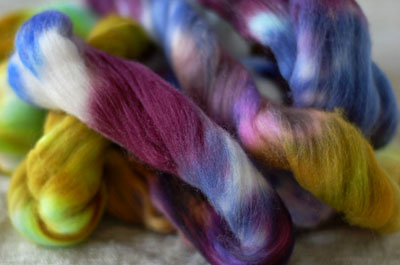 Thistle
18 Micron Merino wool top
4 oz.
This stuff is crazy soft! I hope everyone likes it. From now on, I'll keep the dyes I mix up for the club fibers for a month or so, so that you may order more of a colorway if you like. Email to order and include your full name so I know who you are. This is only for club members.