Another New Project: Cobblestone
Bohus sweater? What Bohus sweater?
I've been spinning for a new project. It couldn't be helped. The moment I saw Jared's sweater (Fall 2007 Interweave Knits) and dyed the Mollusc Wensleydale, I knew they were a match.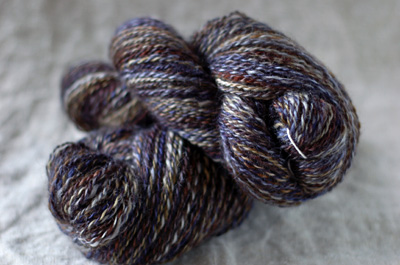 Won't the garter of the yoke look like wet cobblestones in this handspun yarn?
The facts:
Wensleydale wool from my hand-dyed Mollusc top
worsted weight
two ply
approx. 550 yards/ 11.7 oz.
This is heavy, dense, drapey, shiny stuff.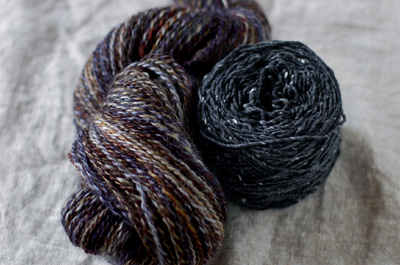 The yarn I'm using for the body is Classic Elite '03 Tweed in color # 5975. People, there is acrylic in this yarn. You wouldn't know it, though. I was going to use the called-for Classic Elite Skye Tweed I have in charcoal, but after reading Aran Knitting, I am OBSESSED with Na Craga and will die if I don't have a charcoal tweed version for my very own self. And really, the Classic Elite '03, of the '03 is to be believed, has been in my stash a good long time!
I'll woman-ify Cobblestone a wee bit, adding waist shaping and not much else. As for the waist shaping, I could narrow and widen that side garter band so that it looks like an hourglass, or I could do the shaping on either side of the garter band. I think that the latter might be more interesting.
Oh, and that Bohus: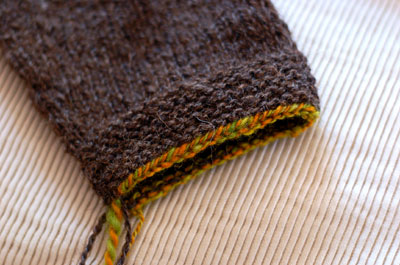 I is *this close* to being finished.

Shop Update:
It's tomorrow at 2pm EST. There'll be lots of sock yarns and spinning fibers, and Sarah from Maisy Day Handspun send some big fat cushty skeins of thick and thin Merino and some gorgeous fine and slick two ply mohair.