Today's shop update day! Sarah from Maisy Day Handspun sent some fantastic handspun yarns and I dyed up a bunch of Sock, Fat Sock, and spinning fibers. 2pm EST- here.
My favorite? Maybe?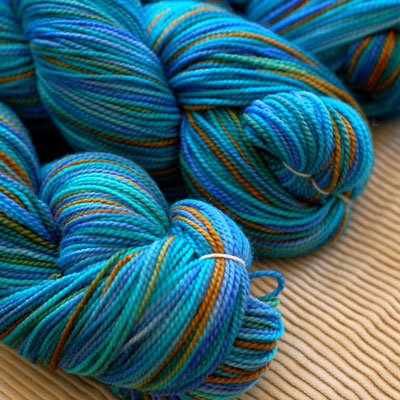 Sock in Treasure colorway
The Kromski:

Thanks for all the interest in my spinning wheel. She's sold, and I almost got a little weepy seeing her go out the door. She's definitely in good hands, though, and I hear she's going to have a very cushy life in someone's cozy bedroom. (Um, I obviously need a larger bedroom so I can spin in there.) As soon as the new Lazy Lady Wheel arrives, I'm sure the weepy will be suspended. When that will be, I don't know. It's been positively days since I ordered the wheel, and no tracking number! I'm desperate to obsessively track its progress as it nears my house. C'mon, wheel!
ETA: Oh, my gosh, thanks so much, everyone. I think that might be the biggest rush the shop has ever seen. The shop seems to be handling the beating you're giving it, thank goodness. I wish there were more hours in the day for making stuff for you!