You Guys Make My Day, Too.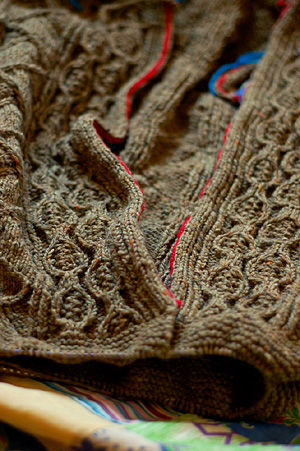 The Saddle Shoulder Aran Vest is coming along so nicely. All the cabley bits are done, the steeks crocheted and cut, and the bottom band has been knit 1.5 times. Despite going down two needle sizes, it still flared. I've gone down 2 needle sizes and decreased 10% for this second attempt. It looks good, I think, but I won't know until it's off the needles.
I've been taking lots of photos of the process of this vest that haven't been blogged here. Take a gander over at Flickr if it interests you. I took some of one of the steeks.
You Make My Day:
I know I've been slow with this, but thanks so much to everyone whose day I make. Same to you!
I am awful at these types of posts, so will just share a few knitting links that I love with you.
Fluffbuff. I mean, seriously. Francesca's knitting is outstanding. I discovered her blog, I think, looking for photos of Na Craga (this particular one of hers is perfection) and bookmarked her lickety-split.
yarnbee. Cheryl's sense of color is fantastic! Her photos are great, and doesn't the whole blog just make you smile?
click clack– I can't read it, but it sure makes me happy to look!
isihi's knitting diary– Crazypants. In a good way.
And one food blog:
101 Cookbooks– Make the frozen yogurt. I sure do! It's good with honey replacing the sugar, as well.
Aren't blogs grand?
Holy Crap, Websites Are a Pain:
Apologies to all who couldn't access the blog last night and many thanks to those who let me know. I guess the site got too big for its britches (or there wasn't enough memory alloted for PHP). There was the usual moment of panic, followed by the urge to contact my host, followed by the realization that I could be a big girl and look it up. Fixing it took 10 seconds. Go, me.
Mitten Kits!
Still working on them. There will be three colorways available next Tuesday. Mr. HelloYarn, the yarn winder of the family, curses the day I decided to make a kit with 7 small skeins of yarn in it. :D