I'm back in one piece, tired, and starving the moment I wake up (damn jet lag)! I took a bunch of photos. Want to see?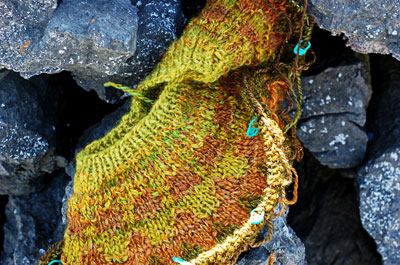 I knit like a maniac on the way over, and then knit quite a bit on the beach on Inis Mór, the largest of the Aran Islands, but woe is me, didn't even pay attention to what I was doing, so at some point after that photo was taken, I cocked things up badly and there's a lot of ripping for me to do.
Just so's you know, I was allowed to attempt (I love it) to get needles on the plane coming back, but I didn't chance it since bags are searched at least twice and no one at the first two stops could tell me if the third would allow the needles through. I don't think they would have, as they searched through everything like maniacs, even digging into change purses and the like. The EU doesn't seem to have a written policy on knitting needles like the TSA does (they're allowed). The little dental floss container cut my yarn nicely, so thanks for that tip!
Back to work!