I bought yarn! For all those Aran jumpers, Ireland really seems short on wool and yarn. I found some in two shops on Inis Mór, but that's it. One shop was a big sweater market selling machine knit sweaters (the site says hand knit, but the locals we knew warned us away from there, saying they're made by machine), Clan Aran patterns (20 Euro each!), and cream Tivoli wool. The other was a small shop called An Tuirne that sold mainly handknits. They had this one yarn in a few colors. It's super sheepy and rustic and a little scratchy, just as it should be. I'm going to knit me an Aran jumper.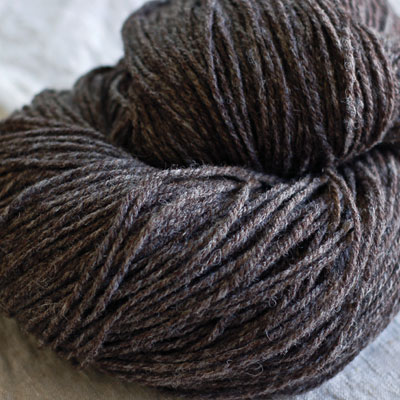 I got a 1 kilo (2.2 bag) for 30 Euro ($40!). I should have gotten a lot more.
From An Tuirne (sweater shop), Inis Mór, Aran Islands, Ireland.
Tel: ++353 (0) 99 61387/61375
Fax: ++353 (0) 99 61375
According to this, they provide worldwide shipping at cost. I might have to call. :)
I should note I'm not affiliated with An Tuirne in any way. I just know that lots of people ask where they can get good yarn in Ireland, so I'm passing on the info. I was supposed to meet one of the owners of the shop, a woman named Rose, who is a prolific knitter. We didn't manage to get together, sadly. The other owner was in when I visited the shop, and I got to see was her personal stash of wool, strewn around the shop, hiding under tables and behind the counter. She has a lot of yarn!