The Walker Treasury Project
Have you seen it? So cool! The deal is, it's an attempt to illustrate Barbara Walker's stitch pattern treasuries with full color photos in a searchable database. If you have the books and want a better view and maybe a little opinion on a certain stitch, you can look it up online. People have to knit all the swatches and take the photos, so if you think it sounds great, go join up!
I donated a swatch of Chain Link Cables from The Fourth Treasury of Knitting Patterns.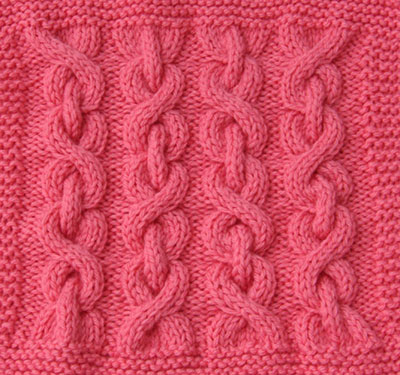 Left to Right: Left Wave Chain, Right Cross Chain, Left Cross Chain, Right Wave Chain
Yarn: Cascade 220
Wraps Per Inch: 14 wpi
Needles: Size 7 US (4.5 mm)
Gauge: 5.25 sts. per inch in stockinette
Pattern: 9 stitch cable crossed every 8th row
Stitch Count Repeat: Multiple of 9 stitches
Book: A Fourth Treasury of Knitting Patterns
Page:213
Difficult Techniques: Requires 2 cable needles.
It's the one I used in Mr. HelloYarn's gansey and my favorite cable EVER.