Yarn School's over and I'm back from Harveyville, KS. My visits to Harveyville are always kind of dreamy. Someone else cooks my (glorious) food, our hosts, Nikol and Ron, are infectiously funny, strangers stop to chat in the street, and there's always something crazy going on. Last year, a circus came to town, and this year, we were treated to a pirate-themed parade and the 70th Annual Harveyville Fair. Arrr! There were so many interesting people there this year, including some so giggly and silly, I wish I could have put them in my suitcase and kidnapped them so they could entertain me all day. Ginny, Mara, I'm talkin' about you!
I took a few photos, but not many, as I had a lot of teaching and helping to do. Click the bunny for more.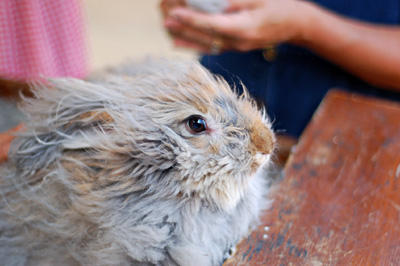 I really, really wish those flufftastic bunnies didn't make me sneeze at 10 paces.
For more photos, you can visit the Flickr group.
Knitting on Cobblestone was restricted to the plane ride and I'm still not even done with the body, so may I distract you with spinning? I thought so.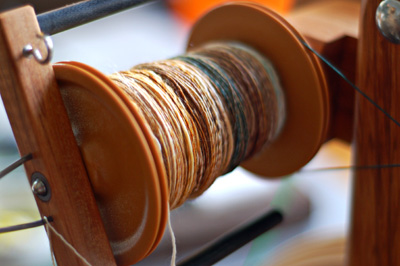 Spunky Eclectic Fiber Club September 2007 fiber selection
Merino/Tencel- 4 or so oz.
Getting used to the fiber and getting used to the Rose. There's some lumpy spinning going on over here!
Shop Updates and Fiber Club:
I've got a whole lot of dyeing to do in the next couple of weeks. The plan is to put Fiber Club renewals up in the shop on the 12th and new slots on the 17th of this month. Since I'm leaving for Rhinebeck (for shopping purposes only) and want to get the current fiber club and orders from the next shop update shipped before I leave on Friday the 19th, I'm planning a shop update for Monday the 15th.
The next fiber club will include at least one pricier fiber and I never did fine a fiber I liked that was inexpensive enough for me to give 6 oz., so instead of the usual 4-6 oz. of fiber per month, the November- January club will be for 2-5 oz. As before, the value of the fiber for each month is the same as if I was selling it in the shop.