Cobblestone, Navajo Plying, Fiber Club, and Out of Town, Baby
For the last week or so, I've been preparing like a madwoman for Yarn School and getting the fiber club dyed and out. The fiber club shipped fully yesterday (I haven't had a chance to enter all your tracking numbers into the database, but you'll get them soon) and Yarn School preparations are winding down. I might actually breathe properly soon!
Cobblestone!:
I was calm enough last night to cast on the body of Cobblestone. This is going to make super excellent airplane knitting on Tuesday. The sleeves are done. Wanna see?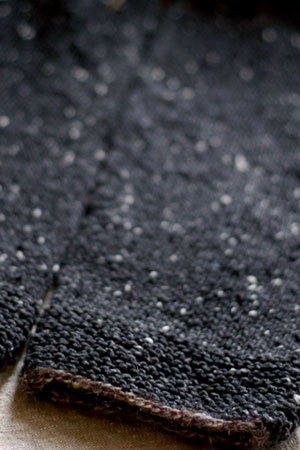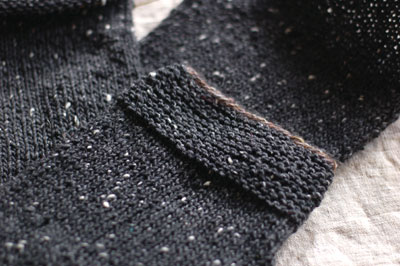 I've got my waist shaping planned and my yoke yarn wound and ready to go. The body numbers had to be fiddled with a bit, as I'm knitting the smallest size, but I'm a bit hippy and bewbsy for the lower body, though the arms and yoke are fine. There's only an 8 stitch difference, so the yoke fudging, which will be done on the fly, should be fine. It will be ready for Rhinebeck.
Navajo Plying:
I've been preparing and collecting spinning samples for Yarn School and one thing that was missing was Navajo plying, which I'll be teaching. So, I dug out a bit of hand-dyed BFL wool top and pre-drafted it without splitting so that the color repeats would be nice and long. I spun and Navajo plied it into a bulky, amazingly puffy yarn that acted like a spring when stretched. The resulting yarn was the stretchiest, bounciest, and softest BFL yarn I've ever spun. I knit it into a top-down hat (no swatching!) and watched the stripes appear.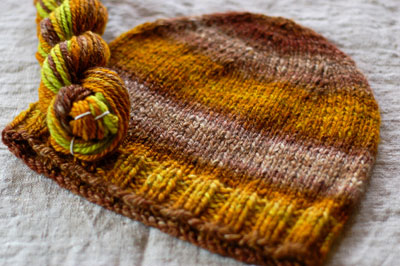 I'm going to have to Navajo ply more often.
Out of Town:
I'm leaving for Kansas and Yarn School on Tuesday the 25th and returning on the 1st of October. Any orders and emails placed after Sunday won't be dealt with until I return. I'll put a notice across the top of the shop to be sure everyone knows. When I get back, there is a glut of new yarn bases and fibers waiting for me to dye them. I'm going to have all kinds of new lace and sock yarns, and great yarns for sweaters, as well. There will be a bunch of new wools and blends, as well. The next fiber club will go up for sale in mid-October. I'll post again about that, but mark your calendars if you're interested in joining. I don't think I'll be able to increase the number this time, with the Christmas rush happening in the middle of it. Maybe next time.
Have fun on the internet while I'm out of the loop!