Spinning And Norwegian Baby Hat Pattern
Spinning for the Baby Surprise Jacket did it to me. I've (re)discovered the joy of spinning small amounts of yarn. I have a vast selection of small bits of different colorways I've done in the past stashed away, and it's lovely to dig around and find a few ounces of something lovely, sit down, and spin it up in one evening, with time left over for knitting. I've done three skeins of yarn in the last week this way.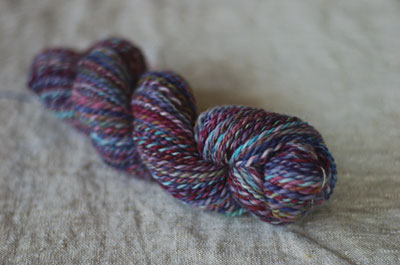 Hunkered South African Fine wool
1.9 oz., 116 yards
worsted weight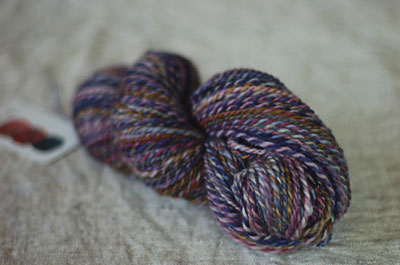 Trodden Corriedale wool
3.4 oz., 190 yards
worsted weight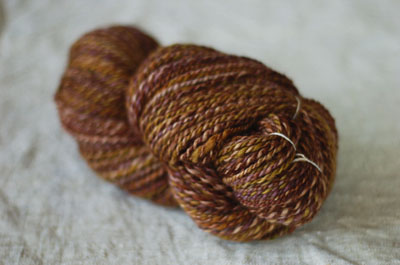 Pluot Corriedale wool
4.5 oz., 240 yards
worsted weight
They're going to go live in a new home- a home with a excellent photographer and knitter- so maybe we'll get to see what they become at some point.
Knitting:
The Norwegian Baby Hat's coming right along now.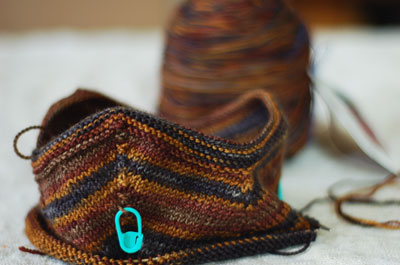 Gro, the pattern author, has graciously posted English translation of the pattern by Theresa for us all. Hooray!! If you're in any way quick, you could have one done before I do, slowpoke that I am.
I should say, I did my decreases differently than called for in the pattern, just out of personal preference. I did *slip one purlwise, K2TOG, PSSO*. I just prefered the way it looked, and since I knit a goodly portion of this hat three times, I had a lot of time to fiddle with the decrease.
To make stitches for the increases, I knit into the front and back of the stitch.