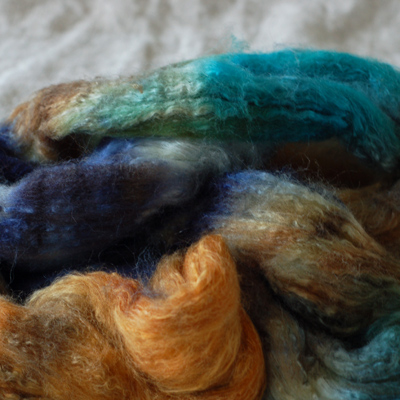 50/50 wool/soy silk in "Gorge" colorway
Today's shop update day. Shop away at 2 pm EST.

Look at it all on Flickr.
Um, this one's a big one. In addition to the fiber club, I somehow managed to dye an awful lot of fiber and yarn, including some new ones. There's hand-dyed wool/ soy silk fiber (shown above), and a DK weight alpaca yarn. The sad news is, there isn't any Fat Sock this time, as it's been back-ordered a painfully long time and I've finally run out. I did sub in a DK weight superwash wool that will knit up into lovely machine-washable winter socks. I've also dyed up Wensleydale, Merino, 18 micron superfine Merino, and Bluefaced Leicester wool spinning fibers. Sarah from Maisy Day Handspun sent sock, handspun 2 ply (!!!) and handspun thick and thin yarns.
I had been planning to give myself a bit of a raise starting today, but it turns out that any price increase I had planned is now going to go to materials, since my main supplier's prices went up. So, expect to see a bit of difference in prices from now on. I won't need to raise them again for quite some time.
Fiber Club:
October's fiber club offering will be shipping this week. I've been spinning it for the last couple of evenings. It's great stuff and I hope everyone enjoys it.
On Wednesday, the club will open up to new members. Returning memberships are for sale now.
See you at 2!