There's been some interest in my blocking board, and I don't blame you. It's great! It's called a Sew E-Z Blocking Board (see it in my last post), and it's served me well for years already. I have the larger size and love it. The only things I might complain about are that it's not big enough to block really long things, like scarves and shawls (I do them on our bed), and the black felt fabric that covers the outside is a magnet for dog hair. It's even heat proof, so you can steam or iron on it.
I bought mine on eBay, but that seller seems to be gone. Jo-Ann.com carries them, and they're having a free shipping sale today, which is great, because these things weigh a TON. MARFSH7353 is the free shipping code for today.
And to prevent a sad, pictureless post, check out the awesome scones we had last weekend: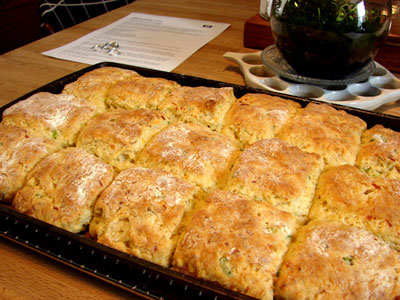 They were excellent- very light and delicious. I used this recipe, adding about 1/4 cup (packed) chopped scallions and forgetting to brush with milk.
Have a lovely Saturday!