Free Knitting Pattern: Mushroom Pulse Warmers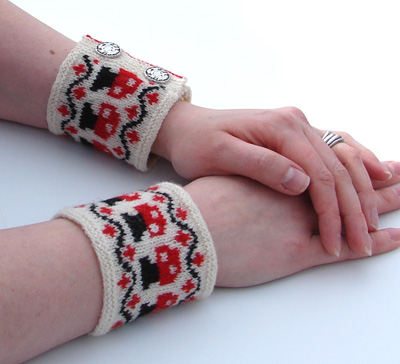 I'm a hand model!
SUPPLIES:
YARN: Rauma & Røros Lamullgarn- 1 skein each of #11 (MC– white), # 43 (CC– red) and #15 (CC2-black), 250 meters/50 gram each. 2 ply 100% lambswool –OR– approx. 15-25 grams of MC and very small amounts of CC & CC2 fingering weight wool yarn
NEEDLES: Size 0 US, or size needed to get gauge
BUTTONS: 4, approx. 3/4" in diameter
SIZE: S (M, L, XL)
TO FIT: 5"- 5.5" (6"-6.5", 7"-7.5". 8"-8.5") -measure wrist over wrist bone
ACTUAL MEASUREMENT: 7" (8", 9",10" ) long and 3" high
GAUGE: 9.5 sts. and 11 rows per inch in chart pattern.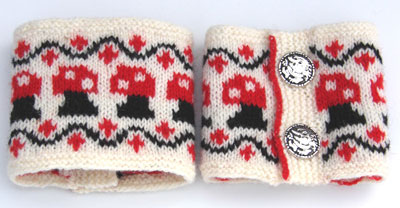 A bit about colorwork, for those unfamiliar:
In my experience, holding the background yarn in the right hand and the patterning yarn in the left results in a much clearer knitted design. This pattern has 3 colors used in the same row, so I held the black under the red in my left hand and the white in my right. It's not awfully difficult or anything, but you do want to keep the strands organized, particularly in a sticky yarn like this, or you'll end up with a painfully tangled mess, complete with hissy fit (or is that just me?).
Here are some links that deal with knitting in more than one color:
Knitting in Color
Fair Isle 101
About gauge:
I know there's going to be resistance to swatching for this project- I mean, the thing is the size of a swatch. My thoughts are that I'll give you a gauge for this yarn in stockinette in the recommended needles and you can guesstimate your gauge that way, or, if you know your usual sock gauge, you can adjust needle size from that and just forge ahead. Just don't blame me if you're off! This is absolutely not guaranteed to work. The garter edges are knit flat, so why not work one of those and then take your work off the needle, lay it flat, and be honest with yourself about the size?
The gauge I got for this yarn in stockinette on size 0 needles is 8.75 sts. per inch.
See the pattern for discussion about gauge, yarn, and steeks.