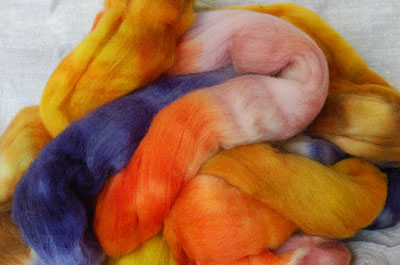 As you may have noticed, I'm working furiously on the website. I've decided to make some big changes around here, namely to the shop. I really hope this leads to much more fiber, yarn, and patterns for my customers, much more sanity for me, and much more blogging for all of us.
Fiber club will continue as always and shop updates will be big and a heck of a lot more often. This change had to be made for a couple of reasons and I feel really great about the possibility of spending my days in my little dye room, making fun colorways.
As far as the shop itself is concerned, gone are the bulk fibers and spinning supplies. It's going to be all hand-dyed all the time. There's a brand new shop and everything (bookmark it!) and it's a lot simpler than the old shop. There are no accounts and all payments will come through PayPal. You can pay by credit card as well as bank-funded PayPal. See here for more information. Some things of beauty are: items put in your cart stay there for an hour so there's no rush to check out, there's a product RSS feed so you can be notified when I add items, and the shop is simple to run and not hosted by me so I really think it can handle some serious abuse.
I'm going to have a sneak attack update in the very near future. Subscribe to the feed, keep your eyes peeled, and let's give the new shop a workout, shall we?