Finished Object: Handspun Knee Socks
I know. Two posts in as many days. Believe me when I tell you that there is a backlog of completed knitting here that is bordering on shameful. I'm going to try and knock out a bunch of posts. :)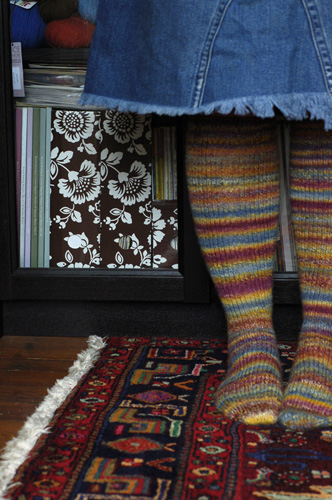 Pattern: You're Putting Me On Socks by Judy Gibson (rav link)
Yarn: worsted weight 2 ply spun from Spunky Eclectic's hand-dyed Corriepaca in the Mountain Majesty colorway. 387 yards/ 8 oz. I used all of the yarn.
Gauge: 5.5 sts. per inch.
Needle: 3US/3.25mm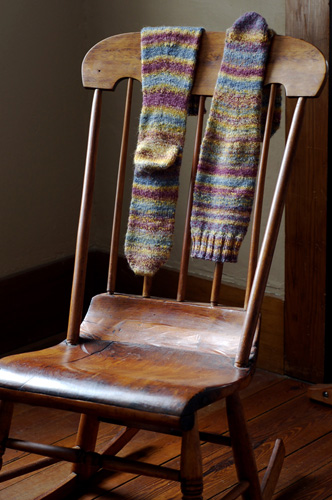 What a super pattern! I know it started as a joke, but a pattern for super plain toe-up socks is exactly what I need when knitting with handspun. Once it's gone, it's gone, and it would stink to not have enough for that one last toe.
I followed the pattern exactly for the foot, then increased up the back of the leg, 2 sts. ever 5 rows, to 54 sts. Decreased to 52 at the top and finished with 2×2 rib. They fit like a glove. I don't know if it's the yarn weight, the dense knitting, or the shaping, but these socks crack me up- they look like legs!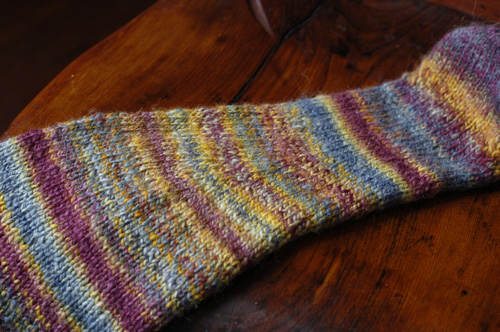 I loooove the fiber I spun the yarn from- Spunky Eclectic Corriepaca. It's an 80/20 blend of Corriedale wool and Alpaca fiber and mmmmm, it's strong, shiny, and a delight to spin. It should make for quite sturdy socks, too.
I'd make these socks again in a heartbeat. In fact, I am.