New Project: Noro Kureyon Log Cabin Blanket
We have this super huge ginormous sofa that Mr. HelloYarn, Shambles and I pile into every evening to watch a movie and knit (me) and play on the computer (him). I say "into" because it's like a bed. This new super gigantic couch demands a bigger blanket than what we are currently using, so I promptly started one. It's about 3 feet square now, and almost starting to look like something. I've got a lot more knitting time now, so it should go a bit faster than 2 months = 3 feet.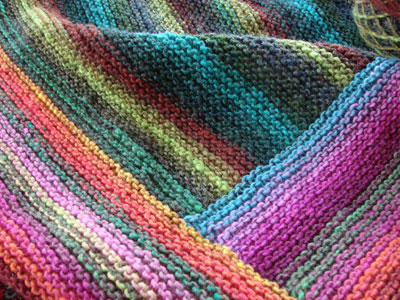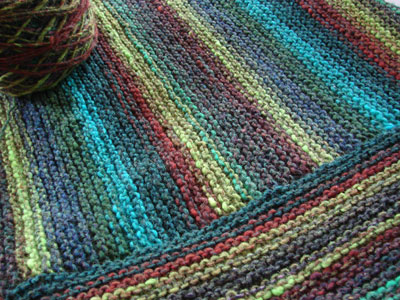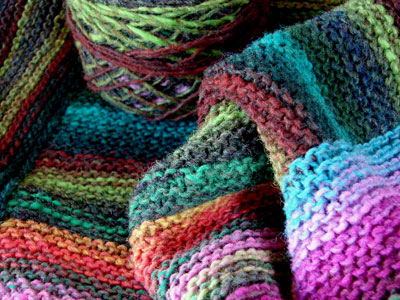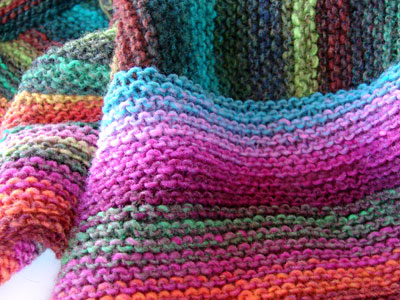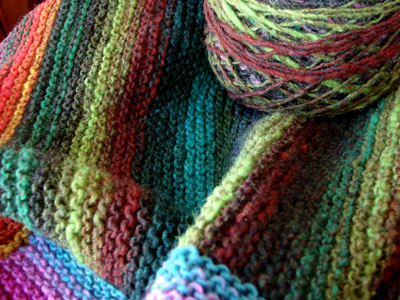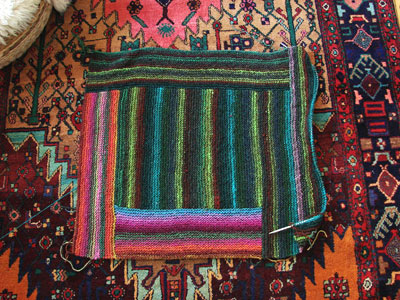 I have 10 skeins each of 2 colors- 165 and a colorway so old I can't find an example of it online. The dark green unknown colorway had a short life as my second ever sweater. That sweater was knit before I learned that wrapping the yarn around the needle in the same direction for both knits and purls made a biased fabric. The zipper in this Kureyon sweater went from the neck to where the side seam should be, so, after a brief mourning period, it became balls of yarn again. It stayed that way for years since it's not the prettiest colorway, but mixed with the bold 165, it's pretty zingy, which is just what the big brown couch needs.
Both bags were dirt cheap and it's satisfying to think of using them all up in this one project and therefore creating some STASH SPACE! You know, that I can then fill with something else.
I feel the love for this blanket already. Isn't it just the greatest how Kureyon does all the work?