You know sock gnomes? I think I've got a needle gnome. So, because my 40″ size 3 Addi Turbo disappeared between last week and this, we go from Saartje's Bootees in the round to Saartje's Bootees flat. (Needles have been ordered to prevent further problems.)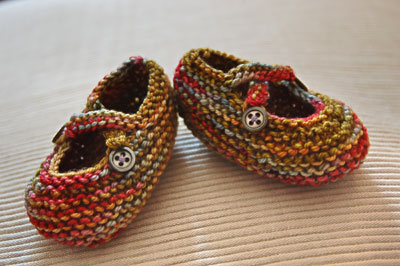 Pattern: Saartje's Bootees (PDF)
Yarn: Hello Yarn Fat Sock in ancient unnamed colorway- 20 grams (less than one skein)
Needles: size 3 US
Gauge: 6.5 sts. per inch
Size: 4.25″ long, smushed flat
Buttons: dark shell
I'm afraid you are going to be seeing a parade of baby-type stuff on this blog for some time because PEOPLE KEEP GETTING PREGNANT! I've got another BSJ started in sock yarn that is half done because of all the knitting time I had yesterday during jury duty. I was not chosen, so normal life may continue. :)
Fantom Bohus:
Knitting has resumed. The body is almost done, but *someone* hasn't decided how to finish the bottom of the sweater. Ribbing? I was going to rib to match the neck, but I think I might want the neck more open, and while I'm ripping, I can redo it in another stitch. Hemmed? Garter? I do plan on doing the body and sleeve edgings in the body yarn with the very last, cast-off row in the acidy green.
Knitting could resume because: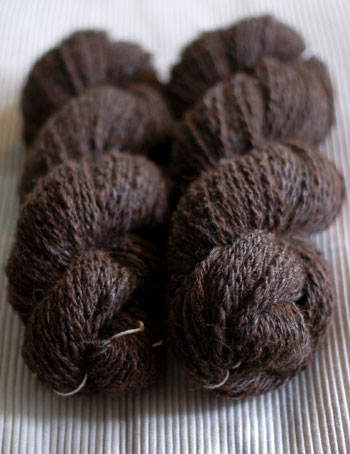 Handspun from Fantom Farm wool/alpaca mix roving.
approx. 180 yards/ just shy of 4 oz. each, worsted weight
Spun from one of these. This is the second 8 oz. I've spun. I really think this might do me for the sweater.
I got about 10 more yards out of this 8 oz. than the last. Not too shabby, and the yarn has the same wpi, so should knit up the same. There's always that moment of fear when re-skeining handspun yarn for a large project when you were naughty and didn't spin it all at once.