There are three finished objects to show today! I'll get off that Shame Train, yet.
I've been on a utilitarian kick, lately, even more so than usual. We're cold. We want warm stuff. Adrian has yarn and makes warm stuff. :)
Harrisville Striped Vest: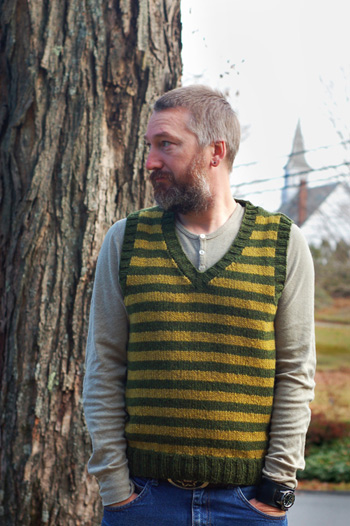 Pattern: made to measure
Yarn: Harrisville Designs New England Highland in Hemlock and Tundra, about 1.5 skeins each, or about 550 yards total
Needle: US 8/5mm and US 6/4mm
Size: 40″, no ease to speak of
Started: October 26, 2008
Completed: November 14, 2008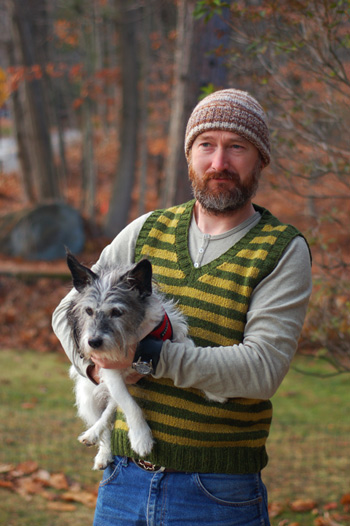 I knit this in the round, carrying the yarn not in use up the side. This has 7 stitch steeks at the neck and armholes, which I reinforced with crochet (see Eunny Jang's article) before cutting. Edgings were picked up and knit as usual. For the v-neck edging, I decreased with a K2tog, ssk at the center point every other row. It looks nice, eh?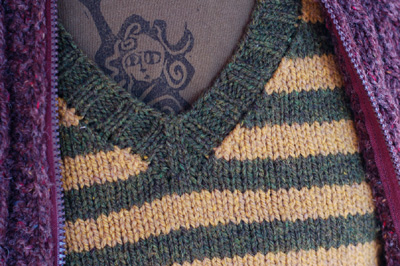 This yarn's fantastic. It's nice and dense-feeling and woolly, but it's pretty light, so you get a lot of warmth without feeling like you've got this big heavy thing on. You can't get much better than these colors, either.

Another Seaman's Cap: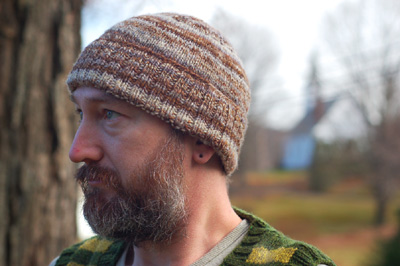 Pattern: Seaman's Cap by Brenda Zuk, our all time favorite man hat pattern
Yarn: my handspun Shetland wool yarn from my Gannet hand-dyed top, approx. 200 yards of worsted weight
Needles: US 7/4.5 mm and 6/4 mm
Size: Large
Started: October 22, 2008
Completed: November, 14 2008
Mark loves these, they look good on him, so I keep knitting them.
See that church in the background? The priest SPINS. I intend to make him my friend, pretty much whether he likes it or not. (ETA: Small world! It turns out I actually know him, already. I just didn't know he was a priest. My plan is coming to fruition. Mwuahahah.)

And finally, leg warmers for me!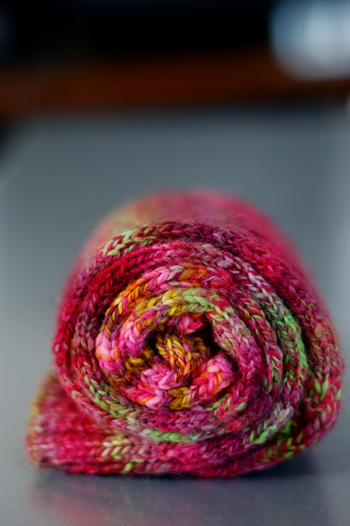 Pattern: made to measure
Yarn: my handspun Spunky Eclectic Fiber Club May 2008 selection, "Rosebud" Corriedale wool, 250 yards of 14 wpi/sport, plus some extra bit of another handspun yarn for the top ribbing, because I ran out of Rosebud.
Needles: 4? I've already forgotten.
Started: November 1, 2008
Completed: November, 18 2008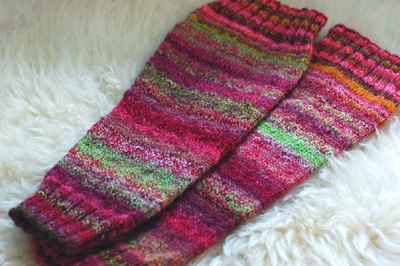 They're 15.5" tall, 11" around the top, and 9" around the bottom. My calves are 15" around at the widest point and ankles are 8". These are fitted and stay up well, but aren't too tight, even with 4" negative ease at the widest point.
These are knit just like a sleeve. Cast on and rib a bit, and then start increasing 2 sts. per increase row with the increase rows spaced about an inch apart, until you get to the desired upper leg measurement. Work straight and do a bit more ribbing. These are knit at a firm gauge and stay up with absolutely no problem.
This is my third pair (second made for me) and I'll keep making them. They're comfy, super warm, and the colors make me happy. You can't lose!
ETA:
The little Ravelry logo links are courtesy of Max. Find info here (scroll way down).