I've been knitting, but obviously not blogging, so I've got four (four!!) finished objects to roll out: these mittens, a handspun hat, a vest for Mr. Hello Yarn, and my Noro Taiyo sweater, which still needs to be washed and blocked. I'm on the Shame Train and am determined to get off. Here goes.
FO #1: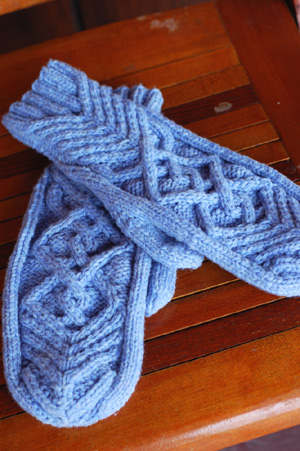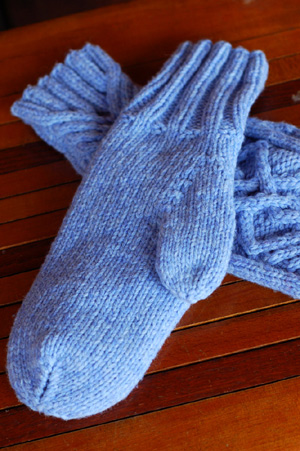 Pattern: Chevalier Mittens by Mari Miunonen
Yarn: Rowan Cork in Vapor- a little more than 2 skeins
Needle: size 5 US/3.75mm
Gauge: 5 sts. per inch
Size: women's medium- about 11.5″ long, 5″ from where thumb is joined to palm and tippy top.
These are just great. I started these in worsted weight (the pattern calls for fingering doubled) and they were loose and wimpy. When I switched to Rowan Cork I hit paydirt. The gauge is TIGHT for Cork and the resulting fabric is really firm, yet soft and cozy- perfect for warm mittens. I think the gauge will help the fabric wear better than Cork usually would.
These were fun to knit and are an ingenious design. The ribbing at the wrist really nips in and makes the mittens fit so well, and the top decreases on the palm side are so attractive. Love them!
These are kind of long in the cuff, at least compared to the mittens I usually knit, so if you wanted to come in under 2 skeins of Cork, you could leave a repeat off the cuff ribbing without a problem.
Stuff I Love Lately:
Tattoos! My husband has a bunch and I have a little one from way back when, but I've hemmed and hawed over getting a nice big one for years. My friend Siobhan Creedon has been tattooing Mark for awhile, and I've seen her skill go through the roof (she's relatively new), so when she offered a tattoo, I took her up on it with glee.
I've been obsessed with Scherenschnitte lately, particularly Elsita's, and told Siobhan to go to town with her design, only pointing her in the right direction with a couple of links and my required cast of characters. She sent back a drawing that stopped my heart. A few days later, it was on my arm and I couldn't be happier. Well, I'll be happier when I have another one on the other arm. :D
True Blood! Is everyone else watching? Gosh, I love a vampire show.
My new spin dryer. If you dye any amount of fiber or yarn, this thing will make your week! I just used it to spin water out of some handknits and they're barely damp. I thought our new washing machine (also love, by the way) spun an amazing amount of water out, but wow, the spin dryer goes three times as fast and stuff comes out almost dry. They make a smaller size, too, if you only need one for a single sweater at a time.
The New House- We're settling in so well. Our neighbors are fantastic- one made me a wool-drying basket as a housewarming present and has taken me antique shopping, another educated us in where to shop for smoked meat (boy, was she right), we've been to a movie at the local theater, complete with bat flying around while we snacked on dollar popcorn, and the house renovations have been slow, but sure.
Fiber Club-It's going out this week. My new dye room is fantastic. Have I shown you the sink? I am in love with the sink. I've got everything working like clockwork in that room. It's small, but I laid things out very well, so it's completely comfortable and I zoom along.
As soon as the club ships, I'll be in there, dyeing up a STORM, I'll tell ya. I plan on doing some Fiddlehead Kits that I'll put up for sale in a sneak-attack fashion and a shop update, which I can't wait to do.
I'll be back soon with more knits!