Finished Object: Fat Sock Baby Surprise Jacket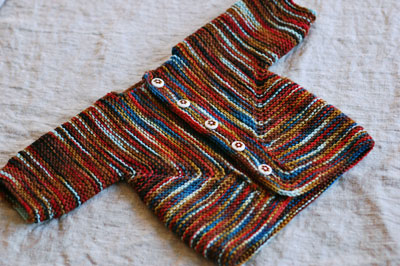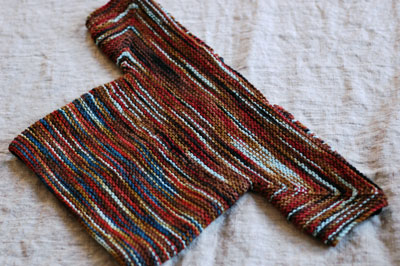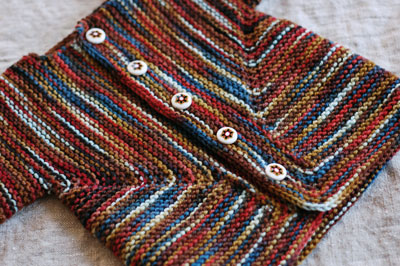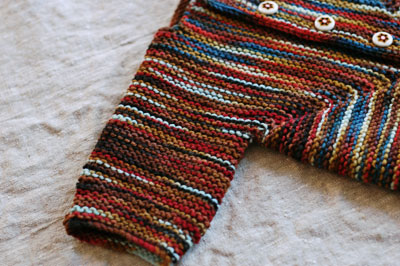 The Facts:
Pattern: Baby Surprise Jacket from The Opinionated Knitter by Elizabeth Zimmermann
Yarn: 2 skeins Hello Yarn Fat Sock- 170 yards, 2.5 oz. each
Gauge: 5 sts. per inch
Size: 17.5″ around, 17.5″ cuff to cuff, so, taking into consideration the thickness of the fabric, to fit about a 6 month old baby according to standard sizing
Needles: size 5 Addi Turbo, 40″ long
Buttons: vintage plastic I've had for years and which match so well
Started: November 11, 2007
Finished: November 18, 2007`
Thoughts on Yarn:
I knit this at the same gauge as the handspun one, but with finer yarn (sport vs. worsted). It's definitely more of a sweater than a jacket, like the handspun one. The handspun BSJ is a softly spun 2 ply yarn knit tightly, and this one is a "hard" yarn knit loosely. The fabric has a very different hand. The handspun feels spongy and amazingly soft, while the Fat Sock in garter stitch acts like a spring! It's very soft, too, but so different. I'm glad I copied the rest of you.
Pattern:
I didn't change a thing about the pattern other than I bound off in knits from the right side instead of purls, since I like how the chain edge looks. For the shoulders, I used the running stitch on the wrong side and it's plenty sturdy in such a small piece.
Fiber Club:
The shipment should be going out at the end of this week. I bit off a BIG chunk with how many slots I opened up this month, but it's almost done. :)
Winter:
It's trying to snow and there are Christmas trees at the fruit stand, already! Are you all as excited to finally be wearing all your handknits as we are? Mr. HelloYarn has been sporting the Mean Man Hat every day and Fugl has been my jacket of choice, along with the Noro striped scarf. Don't tell me they clash!