Finished Object- Baby Pants
These were such a fast knit I'm busting them out only after they're finished.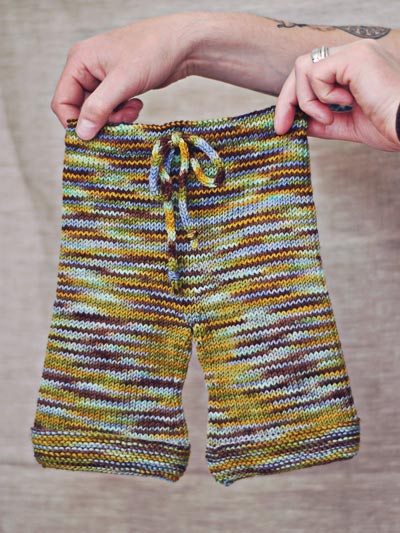 *held by man hands to accentuate tiny adorableness*
Pattern:Alison Hansel's Baby Bell Bottoms (great pattern)
Yarn: Hello Yarn Fat Sock in Herbal- 2 skeins, with enough left over for a bonnet, hopefully
Needles: size 5 long Addi Turbo for magic loop
Gauge: 5.5 sts. per inch
I changed the gauge on these slightly, aiming for a 6 mo. size, and ended up with a 17″ waist, rather than the 16″ the pattern gives. An inch was added to the length, as well, by knitting to 11.5″ where the pattern instructs knitting to 10.5″. These were worked totally in the round, instead of knitting the legs flat and the butt in the round, since I use magic loop for everything, anyway. I didn't even subtract the seam stitches (whoops) and where the pattern calls for binding off 2 edge stitches on two rows at the ends of the legs, I just put the 4 stitches on holders and wove them together at the end. Worked like a charm.
Who wants to knit me a pair?