I need a new mindless project, now!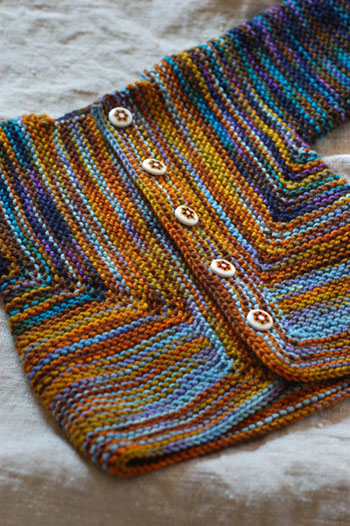 The Facts:
Pattern: Baby Surprise Jacket from The Opinionated Knitter by Elizabeth Zimmermann
Yarn: Hello Yarn Fat Sock in colors Sand and Sea and Sea Salt, 4.5 oz., approx. 290 yards
Gauge: 5.25 sts. per inch
Size: 17″ around, 16.5″ cuff to cuff. This is little guy size- 3-6 mo.
Needles: size 5 Addi Turbo, 40″ long
Buttons: vintage plastic
Started: last week
Finished: last night
I'm going to be one of those old ladies who knits the same thing over and over. Someone's pregnant? BSJ. Someone might get pregnant someday? Better knit a few and stockpile them.
I used two dud skeins of Fat Sock for this, alternating them every two rows for awhile where they met in the center. No fancy edgings for this, or any BSJ I ever knit. I love the raw garter edge on the neck and the bind off row turning its face to the sun. :) The fabric is soft and dense and lovely and stretchy. The buttons are the last of my vintage plastic in this style. I'll miss them!