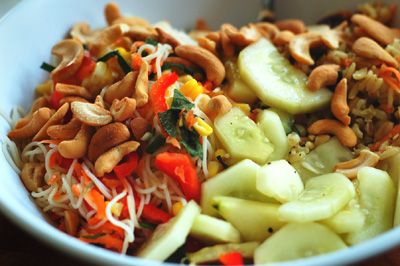 I've been making bunches of salads so that we don't have to keep cooking in this deadly heat. I wrote the recipes for these three delicious yumminesses up. They're so lovely and tasty and light and you only have to heat up the kitchen once.
Summer Salad Mania (PDF) contains Summer Noodle Salad, Curry Rice Salad, and Mom's Cucumber Salad.
PS: I've corrected a typo, an error, and clarified some things since this was first posted. I need a recipe tech editor, pronto!
PPS: The HBO documentary, Roman Polanski: Wanted and Desired was so good! I can't wait to see what the rest of the summer's documentary films are like.