Garter Stitch Extravaganza and Shop News
The garter stitch bug has officially bitten.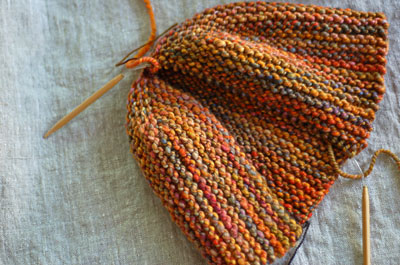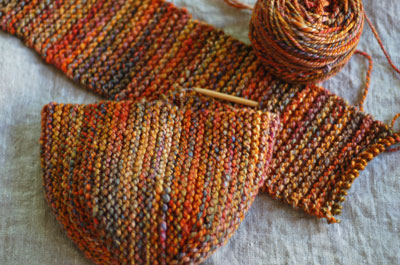 First, there was a hat. Now there's half an EZ-style moebius scarf. I can't waste an inch of this yarn.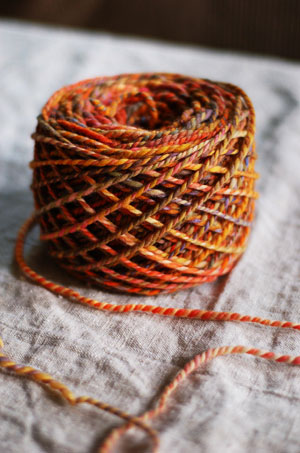 colorway: Adrian is a Fancy Pants!
chunky weight
129 yards (there's another skein of 107 yards)
hand-dyed and handspun by Sarah of Maisy Day Handspun
She just made it for me for no reason. :) There's a sad, sad story behind this wool. I used to be able to get this Finn top that was just fantastic. Sarah and I were fools for it. The sheep only made that fabulous wool for one year, and then they went back to being more Finn-like (coarse). We are still sad. I bet there are some customers who remember it fondly, as well.
Once I get some alone time, that hat will be seamed. I don't think I've ever seamed garter before. I'm gonna have to look that up. I'll post about the hat pattern, which I think is awesome, but totally confusing. Hopefully my thrashing about can save you some trouble.
Shop Stuff:
I've changed the way I do the dye kits. Now you can either purchase one with primary colors and black, or one with colors of your choice. Un-dyed yarn and fiber can be purchased separately to be used with the kits. There have been some new additions, like Louet Gems yarns and superfine 18 micron Merino wool top. The softness, it will kill you.
Vacation:
People, I'm taking a vacation. I haven't been on one in 6 years. Both Mr. HelloYarn and I run our own businesses, so it's not easy to get away. We're taking advantage of a skilled house/dog/business-sitter and going to Ireland early next month. This sitter won't be running Hello Yarn, though, so the shop will be open, but orders placed between the 4th and 13th won't ship until I'm back. Cool? The next shop update will be after I'm back. Sorry!
Has anyone been to the Sheep and Wool Centre in Galway? Was it good? It's a bit of a hike, so I don't want to haul my carcass up there if it's a snoozefest.
Now that that's all out of the way, the most important thing of all must be dealt with. What will I knit on that long plane ride??