Finished Object: Fantom Bohus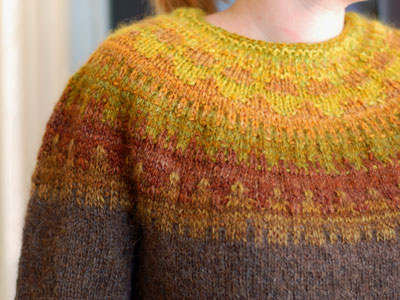 Alrighty, then. This one's been a long time coming, and even longer coming to the blog, after a long and overly warm photo session yesterday during which the hem of the sweater back was tucked under! There was much mirror-looking and checking during today's.
The Stats:
Yarn: 1 lb. of Fantom Farm natural dark brown wool/alpaca mix roving spun into approx. 710 yards of heavy worsted weight two ply yarn, plus these Romney and Romney/mohair mixes, spun from Fantom Farm dyed rovings:
dk. brown- 132 yards/ 3.1 oz.
dk. olive- 128 yards/ 3.0 oz.
olive- 132 yards/ 30 oz.
rust- 130 yards/ 2.9 oz.
acid green- 78 yards/ 2.4 oz.
There are leftovers of every color except the acid green and the main body yarn. I cut them very close. Like, staying up super late at night to finish because you are pretty sure you're going to run out of yarn and you won't be able to sleep if you don't know the outcome.
Pattern: My own, which will be available somewhere, someday.
Needles: size 8 for the yoke, 7 for the body, and 6 for the edgings
Gauge: 4.5 sts. and 6 rows per inch
Size: 42″ bust (2″ ease)
Started: A loooong time ago.
Finished: August 30, 2007
See all Fantom Bohus posts for more info.
Visit the Flickr gallery for even more photos.
The Spinning:
The yarn is a little bit on the scratchy side. I'm sure some of you would recoil in horror upon touching the sweater: some people already have, though they try to control their expressions as they recoil. It's definitely what I'd call "medium wool" and I expect it to last a good long time. It's semi-worsted yarn, spun worsted-style from rovings (woolen prep), which keeps some of the lightness, shows off the sheen well, and keeps a bit of the halo down (there's plenty as it is).
The Knitting:
This sweater was knit in the round, all in one piece, from the top down. It's loosely based on Elizabeth Zimmermann's Percentage System (EPS) and circular yoke recipe. I seriously cannot praise that woman enough. I fiddled with the proportions a bit and added my standard side "seam" waist shaping. It's got 2″ of ease, meaning it's a bit loose and comfy without being sloppy (I hope!), making it a good outwear sweater come fall.
The chart comes from reading Wendy Keele's Poems of Color: Knitting in the Bohus Tradition and looking at how purls were used to soften color transitions and combining aspects from various charts and throwing in some goodies of my own. It took me three tries, I think, to get the yoke right.
Isn't she pretty?
Ask away if you have a question. If there are a bunch, I'll post the answers here.