Fantom Bohus Yoke and Boston Knitter Meet-Up
The yoke is finished.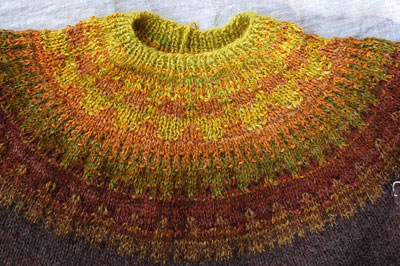 Please forgive the lumpiness. This yarn has a lot of body and wants to do what it wants to do. I will beat it into submission with a good blocking.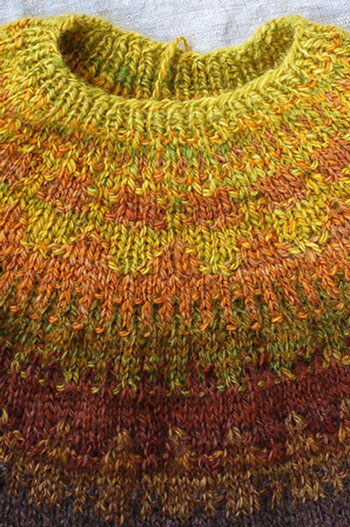 I'm practicing like mad at taking a decent photo of this. I think it's the yarn's sheen that makes the camera go crazy. Hopefully, by the time the sweater is done, I'll be able to take a good photo or else you'll be like "What the heck is she wearing and why should I care?"
It's wonderful to be onto the body yarn of this. It's so slippery and soft. Arm stitches are on lengths of string, waist shaping is about to begin, and mindless stockinette is here just in time for a little T commute this evening.
Flickr set for this sweater
Fantom Bohus category
Knitting Meet-Up:
Tonight at 6:30 on the Cambridge (MA) Common, near Harvard Sq., the Lazy Red-Liners, a Ravelry knitting group, are meeting up. The Bohus and I will be there. Non-Ravelry members are more than welcome. Bring your fiber art of choice, something cool to drink, and something to sit on. See you there!