Do you feel an urgent need to finish your woollies after feeling that first nip of cold? I know I do and we had some cold this week. Sadly, for my knitting, anyway, the shop's been keeping me so busy that I am forced to work well into the evening, usually 7 days a week, so my brain has been a little too frazzled for much thinking knitting. Last weekend, I took a little trip downtown to wander for a couple of hours, and had the genius idea of satisfying my woolly urges and soothing my muzzy head (you would not believe how many orders I screwed up in the past week while Mr. HelloYarn was in Ireland and not here to help me) all at once.
I bought some Kureyon for a scarf and what a scarf it's turning out to be.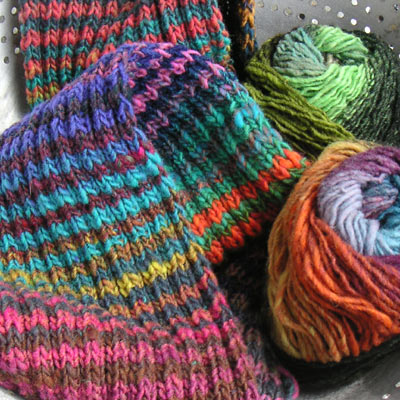 Yarn: 4 balls of Noro Kureyon, all different colorways (#163, 170, 164, and 126), used to the last drop
Pattern: 42 sts., 2 x rib, 2 x 2 stripe alternating from 2 different balls of Kureyon
Needle: size 8 Addi Turbo
Size: 6″ x 70″
See some others:
Swim
Yarnstorm's the queen of these.