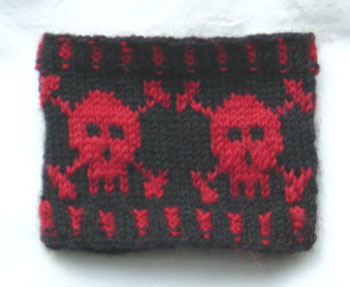 Here's a quick pattern:
2 skeins of Jaeger Matchmaker Merino 4 Ply in your favorite colors
size 0 needles
gauge = 10 sts. per inch in stockinette
Cast on 72 sts in your background color. Join.
Knit 2×2 rib for 4 rows, doing the knit stitches in one color and the purls in the other.
Knit 2 rounds in the background color, then start doing your skulls.
Use Stephannie's skull chart from her scarf, leaving only one black stitch between 4 skulls (72 sts.)
Knit the chart, then 2 background color rounds, then 4 rows of ribbing, same as before.
Bind off in your background color.
Be careful to knit these loosely, since they don't stretch a whole lot. They fit a 7″ wrist and take a little wrangling to get over my husband's large hands, but it's worth it!